Volleyball opens to limited spectators
After months of delays and cancellations, the BRFHS volleyball team finally set foot on the court for the first day of practice on September 7. Abiding by social distancing guidelines and wearing masks were only a few of the adjustments the players made. Playing without the presence of their parents was another change. 
"I was really sad that my parents wouldn't be able to watch my final season," said senior Tessa Matousek.
This announcement wasn't only hard for the athletes; it had a strong impact on the parents as well.
"My daughter is a senior and this is the last year I will be able to watch her play. Support and encouragement can be a significant factor in the player's energy. Everyone deserves to have a cheerleader in the audience," said Tessa's mom, Robyn Matousek. 
For the first few weeks of practice, the athletes were under the impression that the only viewing option for their games would be through a livestream. However, late last week players were sent home with news.
"We will be allowing a limited number of parents to attend games to abide by social distancing guidelines. Player guests should be immediate family members. Varsity players will be allowed four guests," said athletic director Jay Weinman in a letter sent to all volleyball players. 
The news was met with many sighs of relief, one in particular from one of the team captains, Summer Rufsholm.
"Having fans there just makes the atmosphere more positive. Even when the gym is dead silent, knowing that our community members, peers, and parents are there to support us makes me play better and gives me a sense of pride," said Rufsholm.
The decision to allow fans was made at the conference level, and while many accommodations had to be made to allow this, some schools still aren't on board.
"Viroqua isn't allowing spectators, neither is GET. At this point, no teams in our conference are allowing away fans," said Weinman.
Even with a plastic shield attached to the net, players wearing masks, replacing the game ball frequently along with other sanitization efforts, some county health officials were still wary. 
"We came up with all the health modifications we could think of, but since our conference comes from multiple different counties, it was hard to please everyone," said Weinman.
Although the season will look different, the team is grateful for the opportunity to play.
"We just want to say thank you to the people who are fighting for our season and making sure we stay safe and are making the best out of the situation. I know it means a lot to us all, especially the seniors," said Rufsholm.
Leave a Comment
About the Contributor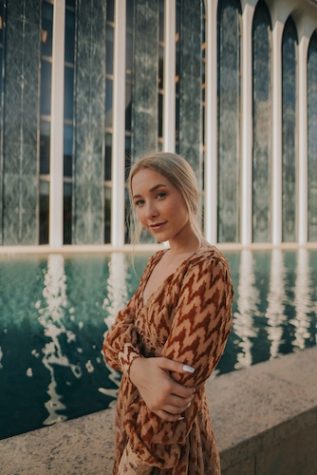 Ellie Wirtz, Editor-in-Chief
Ellie Wirtz is a senior at Black River Falls High School and the editor in chief of the Paw Print. This is her third year of involvement with the SRL class, inside and outside the classroom. Over the summer, she was selected for and participated in the Student Reporting Labs Academy. When she isn't editing or bossing the staffers around, you'll find her around town at one of her various jobs, or in bed.