Staying Safe To Hit the Diamond
Softball players weigh virtual and online class options with an eye on potential quarantines
Starting April 19, the Black River Falls High School Tigers softball program officially kicks off their season. With the date approaching very soon, the girls are eager to get out on the field. 
"To me, this season is more special than others because I've never played high school ball," said freshman Mady Shultz. "I'm super excited because I love the seniors, and it's going to be our last time playing together."
The team has one goal that they share: to win the Coulee Conference Championship. 
"I think it's going to be our season because all the girls are working super hard. You can tell everyone wants to be there," said senior Quinn Cerda-Reyes. "The girls are super dedicated, and we are all coming together as one team."
As the pandemic and chance of getting quarantined are still upon us, some girls are not planning on attending school in person. 
"I don't want to miss games, and you have a very good chance of getting quarantined when you go to school, and I just wanted to take the safe route and stay at home," said Shultz.
With how the schedule is looking for their season, the players have at least three games per week for six weeks. That means getting quarantined would mean the loss of a third of their season. 
"I would miss a lot of my senior softball experience because we have a ton of games during the week, and being quarantined would be very unfortunate," said senior Gabby Antonelli.
Regarding missing her senior softball experience, Antonelli also doesn't want to miss out on her senior school experience. 
"I'm going to be attending school face-to-face because it is the last trimester of my senior year," said Antonelli. "I feel like I just want to enjoy my experience at Black River Falls High School instead of being online."
Cerda-Reyes and Antonelli will both be in their last trimester of high school. To be virtual or face-to-face comes down to personal preference. 
"I think keeping myself healthy isn't only helping myself, but it's helping my team as well. So I'm not getting COVID and getting them quarantined," said Cerda-Reyes.
Having the option to attend school virtually or at the building has given the girls a choice to pick what they are most comfortable with coming up on their season. 
"It's not like someone can choose if they get COVID or not, so I think as long as we all just stick together and get through it, it's not going to break the bond of the team," said Cerda-Reyes.
Leave a Comment
About the Contributor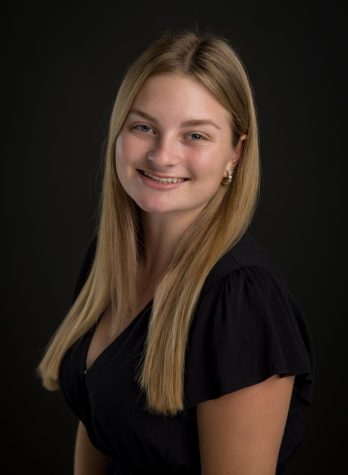 Mayla Engebretson, Paw Print Editor-in-Chief
Mayla Engebretson is a senior at Black River Falls High School. This is her second year as co-editor for the Paw Print at BRFHS. In her free time, she enjoys playing softball, tennis, and listening to music. She is very busy with her social life, being a cashier at Walmart, and keeping up with school work. She is excited to expand her knowledge of journalism for the future.