Snow Days: A Thing of The Past
Punxsutawney Phil, Pennsylvania's highest revered groundhog, can feel good about his winter prediction, seeing as in the last two weeks record colds have been observed nationwide. This has caused a surplus of problems, one of which being school closures.
In Black River Falls, temperatures have reached as low as -25 degrees. In the past, this would've been seen as a Godsend for students as well as teachers.
"We all need time off once in a while. Snow days allowed us to stay home and just take a break," said physical education teacher Mark Lehnherr. 
This year, however, cold temperatures and excessive snow are no match for public education. 
"Last year, we specifically asked staff if we should create a calendar with built-in snow days, or if we should plan for e-learning on snow days, and the majority of staff said to not create a calendar with snow days built in," said superintendent Dr. Shelly Severson. 
Now, days that in the past might've been filled with relaxation or catch up have been replaced with online classes. 
"I like the new snow days because we have the opportunity to make meetings with our teachers and still learn and work towards understanding concepts," said sophomore Bailey Diehn. 
For some students, E-learning days feel like a class reunion. 
"I'm online all the time, and having all my classmates together again feels kind of odd. When the whole class is online, I feel way more included, and the class goes by faster," said junior Ali Haver. 
Because it's a new development, there are still some kinks to work out. Students and teachers share concerns about expectations during these virtual days. 
"Sometimes I feel like things can be over-communicated, which can make things confusing for everyone. I do think that for some students, being confused is a mere excuse," said Lenherr. 
Lenherr has even opted out of having his classes meet on virtual days. Instead, expectations for the day are communicated through canvas announcements or emails. 
"It seems like the only real expectation for snow days is that we show up. Classes are only 30 minutes long, and we get nothing done," said senior Caden Skelding. 
When trying to appeal to the state's requirements, though, material and understanding can often be overlooked. 
"The state of Wisconsin dictates how many hours and minutes of instruction must happen at each level of public schools," said Severson. "We must meet these expectations."
Among a few other strategies, meeting those expectations in the past has meant extending the school year well into June, which the district generally tries to avoid. 
"Families like to make plans for June, and not knowing when the last day of school is, gets messy," said Dr. Severson. "Everyone always wants to be done by the first week in June."
The implementation of E-learning has been a give and take kind of process. Despite the circumstances, students and staff stay optimistic. 
"I think not having to go into the summer makes E-learning days totally worth it," said Diehn. 
Leave a Comment
About the Contributor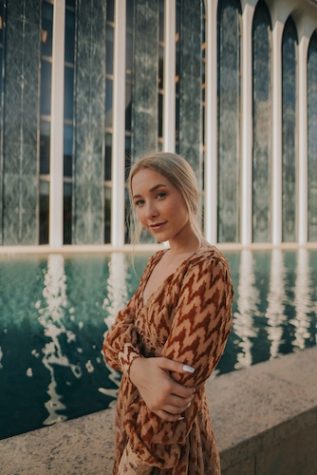 Ellie Wirtz, Editor-in-Chief
Ellie Wirtz is a senior at Black River Falls High School and the editor in chief of the Paw Print. This is her third year of involvement with the SRL class, inside and outside the classroom. Over the summer, she was selected for and participated in the Student Reporting Labs Academy. When she isn't editing or bossing the staffers around, you'll find her around town at one of her various jobs, or in bed.