NHS Inducts 23 New Members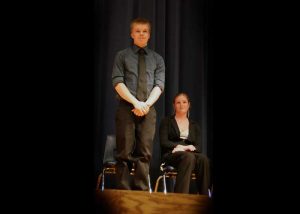 Character, service, leadership and scholarship are the pillars of the Nation Honor Society, and on March 30, 23 students were recognized for these extraordinary qualities.
"Being smart isn't the only important quality members of Nation Honor Society must possess," said NHS President Austin Marg. "Members must also be leaders, service-oriented and display exemplarity character."
These qualities are rare to find in high school students and that is why only 23 students were inducted into NHS this year.  There are only 64 students involved in NHS this year.
"By becoming a member of National Honor Society students are showing that they have a bright future and much to look forward to," said Marg.
Most of this year's inductees were sophomores, with a smattering of juniors in the mix as well. 
"We have a great mix this year, and many of the inductees are going to be awesome leaders next year," said Marg.
"I'm really happy I was inducted into NHS this year," said sophomore Savannah Markee. "I think it will create some great opportunities for me to be a leader and it should be a lot of fun!  Plus, it made my parents really proud!"
Fellow sophomore Joshua Hanson couldn't agree more.
"I'm really proud that I made it into NHS," said Hanson. "Hopefully it will help me become a more well-rounded student and have some opportunities to do things I would normally not get to do."
This year, as in past years, Black River's National Honor Society has not been particularly active, but that may change this year as members are planning to adopt a highway as they have in the past.  The inductions were the first major event for the organization this year.  Junior Caitlin Nelson repeatedly use the words kind, smart, active, passionate, faithful, reliable and organized while describing a group of the inductees.
"NHS is an excellent organization that has some of the greatest students in our school involved," said Nelson, "But it's really about living the NHS oath.  Working towards having a great character, being service oriented, practicing motivational leadership and being an exceptional student."
Everyone who was inducted this year is a prime example of what NHS is.  They have carried a grade-point average of 3.5 or higher throughout their high school career as well as been involved in various activities and served as leaders in the community.
Inductees for the class of 2011 were:
Zachary Markhardt and Elizabeth Cook
Inductees for the Class of 2012 were Breanna Amborn, Samantha Bahr, Tyler Bue, Kaitlyn Dvorak, Lindsey Fox, Brady Gartner, Joshua Hanson, Hollan Hogden, Aaron Miles, Timothy Nortman, Chad Bahnub, Jessica Bere, Emma Erlandson, Brittany Gacek, Evan Gawron, Jordyn Hilts. Savannah Markee, Alexandra Meek, Lillian Murphy, Erica Olson and Alexandria Turner.
View Comments (1)