Track hopes to hit new heights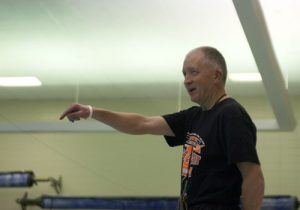 This year, the track team is sporting some high hopes and have been getting ready for this years track season. With those hopes comes a strong team that is boasting a good number of strong athletes. 
"I think this year we have a strong team that has a lot to offer," said senior Adam Nichols. "We have a lot of diversity and remain strong in several areas." 
"We are a strong team this year," said senior Justin Barton. "I think that we can get some wins under our belts." 
The team members all look forward to a good season and have already had a good start to their season. But all of the athletes need to keep working hard for the several meets still to come, with a strong base of senior athletes leading the way. 
"We are going to do really well this year, "said senior Conrad Bragee. "We have a lot of good seniors that can score us a lot of points, unlike years past when there has only been a select few." 
"I think we have a good shot," continued Nichols. "Hopefully we should place somewhere in the top 3 in the conference." 
Track is the same with all other things in one aspect, the cliche 'With age comes experience.' This fact is definitely true with this years senior athletes. The seniors have been together for years and have worked with each other on the team for several seasons.
 "The seniors this year have a lot of chemistry," said Bragee. "We really have gone through the seasons together. We all have a lot of experience to give to the team"
 "We like to hug…a lot," commented Nichols. "Probably more than any other class this school has seen." 
Team bonding only gets athletes so far, this is no different than any other in the fact that this year the athletes have been preparing their hardest to make this season a memorable one. 
"I started preparing [for track] in December," said senior Dustin Dittner. "I am going to give it my best and go hard. I really want to push myself."
 Not only preparation is important here. Track athletes need to work hard to perfect their form before they can actually do their event, and good form takes a lot of practice. 
"We really need to run through everything a lot," said Bragee. "We [throwers] need to practice form and try doing it right before we even hold the shot. once we get that down we can actually throw the shot." 
This season looks like a good one for Black River Falls track team. With a good group of seniors providing leadership and good examples for the younger athletes, they are looking forward to a winning season. 
"I think we have a good shot," said Dittner. "We're going for conference champs this year!"
Leave a Comment