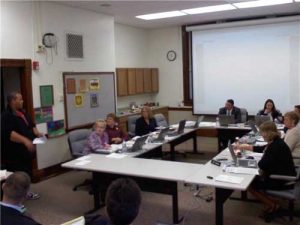 The School Board had another busy night with an agenda filled with talk of resignations, new members, graduation requirements, RtI, virtual learning and the 2011 graduation date.
Four district employees will be resigning or retiring at the end of this school year. Forrest Street Early Learning Center principal Sherri Torkelson and high school business teacher Amy Yaeger have announced their resignations. Administrative Assistant Barb Prochaska of the district office will be retiring after nearly 30 years of service. Throughout her 30 years, Prochaska trained three new superintendents. Also resigning is Teri Bulin-Messelt of Forrest Street Early Learning Center.
The board also swore in members Lois Corey and Susan Olstad to three-year terms. Corey and Olstad were elected in the election on April 6.
Sophomore Zach Benz won first place at the State Art Competition in Madison with his life-size sculpture of a robot in a real-life situation.
A Response to Intervention (RtI) representative discussed RtI in our district. The purpose of RtI is to make sure students that are "at-risk" (in danger of not performing in a way that is appropriate to their skill level, be it not challenged enough or overly challenged.) This involves formalizing what the district is already doing to track student progress from year to year.
Dawn Ordeen from CESA-9 in Tomahawk gave a presentation on virtual learning entitled "Making a Smart Investment: K-12 Online Learning." Ordeen talked about the advantages of these sort of programs.
The 2011 graduation date is tentatively set for Sunday, June 9. Regular classes end June 9 for all other grades in 2011.