Senioritis: What are the signs?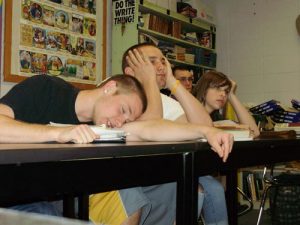 sen·ior·i·tis [seen-yer-i-tis] –noun– describes the decreased motivation toward studies displayed by students who are nearing the end of their high school careers.
April is Senioritis Awareness Month. We have all heard of senioritis, but how much do we really know? How can we protect ourselves from this rapidly-spreading illness?
Senioritis is a virus that affects high school seniors. It begins with distracting thoughts in class. As senioritis progresses, homework is no longer a priority and all school-related activities seem less and less appealing. Every day school tasks become strenuous and intense feelings of indifference take hold. Senioritis is highly contagious. The highest risk behavior for contracting senioritis is spending time with other seniors who have already been infected. Despite popular belief, senioritis is not transferable to students in other grades. Similar symptoms to those of senioritis have been known to appear in juniors, primarily those who have many senior friends. For juniors, it is important to remain calm and to remember that there is still one more year of high school.
Other behaviors that can increase feelings of senioritis include the wearing of shorts, t-shirts and sandals. This summer attire can remind seniors of socializing at summertime bonfires and carefree days of relaxation spent absorbing the sun's warm rays while napping on the soft sands of the beach.
Senioritis thrives in warmer temperatures, but anyone is susceptible to the dangerous effects of senioritis. When temperatures climb into the 70s, students begin to make plans for summer and focusing on school becomes increasingly challenging.
Symptoms of senioritis include absent-mindedness, distractibility, short attention span, impulsive decisions or restlessness, lack of attention to details and poor listening skills.
Senioritis can cause severe changes of behavior in otherwise good students. Seniors that once spent hours perfecting homework assignments may find themselves scribbling down answers just minutes before class. The only known cure for senioritis is graduation. The Food and Drug Administration has recently been conducting tests with a controversial new treatment known as "early graduation." Early graduation involves finishing high school halfway or three-fourths of the way through the senior year. The jury is still out on whether or not early graduation is an acceptable treatment for senioritis.
The earliest cases of senioritis in the United States were reported near the end of the nineteenth century, but the more severe strain of senioritis that we know today was first discovered after World War II in Savannah, Ga. Many think that senioritis was brought to America aboard a cargo plane from Japan. This occurred around the same time that the school dropout age was raised, forcing students who otherwise would have dropped out of high school to stay in school longer. Most experts in the field believe that this is purely a coincidence.
If you or a fellow senior suffers from senioritis, talk to your doctor or call the senioritis help line at 1-800-SENIORS. Remember, you are not alone. Senioritis support groups meet at beaches, in a friend's basement or at a bonfire near you.
View Comments (2)