Softballers Chalk Out Future
Sophomore Madyson Schultz and junior Haylie Schmidt both plan to play softball in college, but they have a lot of challenges to overcome.
Schmidt is very passionate about the sport.  Although Schmidt is involved in a variety of extracurriculars, she works hard every day to keep improving herself as a softball player and an all-around athlete.
"There's always a lot going on in life, and the softball field is one place where I can be where I'm not thinking about anything else. There have been days where I have tons of homework, have a family issue at home, or just don't feel like myself, where I just need to focus on being where my feet are: the softball field. It's kind of crazy because all of that worry or stress goes away when I'm with a bunch of other girls who have the same love for softball as I do. I try to focus on bettering my team and being the best me I can be for my team," Schmidt said.
Schultz has always dreamed of going to college to play softball. She has been keeping up with her homework, home life and other sports. Madyson has held a 4.0 GPA throughout high school and practices as much as possible.
"My dream college is the Wisconsin Badgers, probably because I have been watching them ever since I can remember, and I've gone to multiple games, and I've met with many of the players, and they are just awesome, " Schultz said.
Schmidt was a big part of the team last year. She was the starting catcher and always had a smile on her face. Her grandmother, Terri Goettl, acts as Schmidt's personal coach and cheerleader.
"She has spent countless hours practicing with me, throwing soft toss, setting balls on the tee, hitting ground balls, talking to me about my mental game, and driving me to my games and tournaments. She hasn't missed a game in the 12 years I have been playing. I truly don't know where I would be without her. She has taught me that things won't always go your way, and you can only control what you can, to always have a smile on your face because you never know who's watching, and to be happy for everyone on the team, no matter what. I would not be the player or person I am today without her, and I am forever grateful for that," Schmidt said.
Schmidt started softball when she was six and has loved the game ever since.
"I think the reason why I have stuck with softball for so many years is that I've developed a true love for the game. Softball is one thing that will always be there for me whenever I need it. At first, it was just a fun thing to do, but as I've grown older, I can say that I have truly fallen in love with the game and playing with eight other girls that support me. It's the best feeling to know that you are fully supported by the girls around you, and I fell in love with that feeling," Schmidt said.
Schultz and Schmidt both have teammates that help them through tough times.
"Yes, there are three teammates: Zowie Hunter, Haylie Schmidt, and Mayla Engebretson. They are always there for me, and it's very fun to play softball with them," Schultz said.
Schmidt credits senior Makayla Nortman, Schultz, and junior Mayla Engebretson.
"Mak is the most down-to-earth person I have ever met. She is always there to listen, but also gives me advice, but doesn't sugarcoat anything. She and I have a very strong connection when it comes to softball. I think we're always each other's best advice giver. Mady and I have a very very strong pitcher/catcher connection. She always knows how to pick me up and just be that pick-me-up that I need, we've gotten very close since we started pitching and catching for school ball together," said Schmidt.
Engebretson gets a special mention.
"Mayla and I have been friends since we were in 4-K. She knows everything about me and knows exactly when to give me a big hug, make me laugh, or just listen. She is just the best friend that everyone needs in their life. All of these girls make playing softball for the Tigers amazing. I am so excited for this season and I can't wait to spend it with these girls," Schmidt said.
Leave a Comment
About the Contributor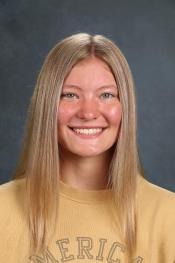 Zowie Hunter, reporter
Sophomore Zowie Hunter goes to Black River Falls High School and is super excited about this upcoming trimester in SRL. While trying to keep her grades up, she competes in a few different sports: hockey, softball, and golf. Along with being in sports, she participates in a couple of clubs like Pep Club and FCA.