Senior's Anxiety Accelerates After Acceptance Letters
Seniors are faced with added stress throughout the school year because they are applying for college, and the stress doesn't end once the acceptance comes.
Becca Hudson is a senior at Black River Falls High School. She has toured many colleges and has now committed to the University of Montana. She has lived in Wisconsin her whole life and is starting the process of leaving her hometown. The college acceptance process can be confusing for some, but Becca has kept all of her ducks in a row.
"I went to Common App, and I filled out that application and sent it in. The guidance office sent in my transcript. The university sent me an email back only like two weeks later. They sent me an email that said, 'we have some big news.' So I logged into my portal that they gave me and then it said I was accepted," Hudson said.
Even though Hudson has been accepted, her stress has not ended. Once a student is accepted they need to fill out housing forms and other paperwork. The other stressor that many seniors face is how they are going to pay for college. Upon acceptance, students need a game plan on how they are going to pay for their education and how much they will need in loans.
"And now I have to fill out scholarships. I just filled out Financial Aid the other day. I don't think that housing opens until like January, so I have to do that. Then obviously, I need to fill out a bunch of scholarships because it is out of state so it's a lot of money. So that's part of the process, and then once all that's done I move," Hudson said.
One of the stresses of college is how to pay for it. CNBC reported that last year 500,000 students didn't attend college because they couldn't afford it. Financial Aid is offered through the government and can help offset the cost for some. High school counselor Susan Leadholm has given many students advice on how to fill out the form.
"The FAFSA is more your parents' financial information, so you want to collect all that stuff before you start so that you're sitting down uninterrupted and you're able to fill that out. So really, it's just getting your materials so that you're ready," Leadholm said.
FAFSA offers loans and grants, but another way students pay for college is through scholarships. They sometimes can't find the time to complete or submit the scholarships on time. In the end, they are free money, and many students regret not applying.
"So, I think that in any of these scholarships, it's good if students have that kind of resume cheat sheet that lists all your activities. So to me, the first thing is college-specific scholarships and then the second thing would be the local scholarships because everyone wants free money. So you should make sure that you follow through on that," Leadholm said.
Going to college can feel like jumping into the unknown for some. People don't have their group of friends, people they have known forever, and the knowledge of their area. They are exposed to a totally new environment. It can be scary to some.
"I mean I'm moving to a whole other state. Obviously, I've only lived in Wisconsin my whole life. So I don't really know if I'm going to like it exactly. So if I don't then it's kind of harder to just move back," Hudson said.
Knowing someone who has been through the process can make it less stressful because they can give tips and tricks to make it easier. Francine Guenther graduated from Black River Falls High School in 2021 and is currently attending her first semester at UW-Madison. She just went through the application and moving process last year so it is fresh in her life.
"The most exciting and the most stressful part of transitioning from high school to college truly is the change. You are no longer in your comfort zone, and some are hours and hours away from home. I think sometimes it is even worse because in a weird way, college doesn't feel like home but home isn't home now either. You are disconnected from most friends and thrown into a pool of unknown territory — but it's an important part of growing up and becoming who you are," Guenther said.
Although deciding where to go to college and how to pay for it can be difficult, it can also be a great learning experience. Many people meet life-long friends once they get there. Guenther says that although college is an unknown experience, it shouldn't hold people back. There is light at the end of the tunnel.
"Don't sweat it. It's difficult and it's stressful, but stay on top of your emails and your work. Apply for as many scholarships as you can. Remember that if you don't get accepted into your first choice it maybe wasn't meant for you, and you can still have a great experience somewhere else— and learn to love a new campus. Whatever you do, choose what is best for you. I also believe that it is all about mindset. Go into this knowing it is difficult, but remain positive. Leaving Black River Falls isn't going to change your mindset, it is something you will have to do on your own. Embrace the struggles and opportunities that you're given and learn lessons from things you have done wrong in the past. Don't dwell, keep going," Guenther said.
Leave a Comment
About the Contributor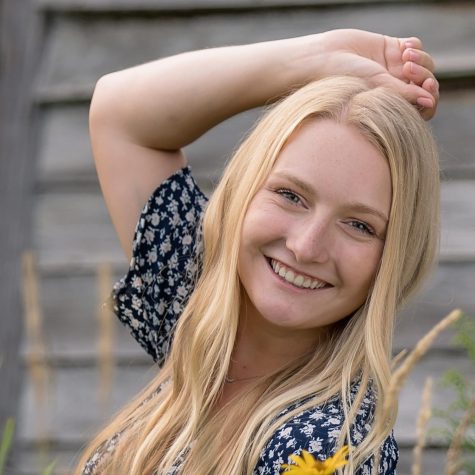 Kaylee Sweno, reporter
Senior Kaylee Sweno tried something new this year and joined the Paw Print. Her senior year has been jam-packed with many activities including FCCLA, NHS, and golf. She doesn't have a lot of free time, but when she does she spends it giving back to her community as Miss Jackson County. Although Kaylee is busy, she still takes time to have fun and procrastinate. Her videos may not be done until the day of the deadline, but they are still always on time.