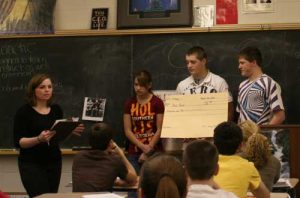 U.S. History classes had the privilege of being taught by student teacher Kelly Pierce this quarter. With a major in Politics and American History, Pierce's passion for history and discussion is evident in the class room.
"I think, my favorite thing to teach would be letting students know that they are able to make a difference, empowering them…giving them the power and the knowledge to go and find out on their own," said Pierce.
While her favorite class to teach would be American Politics, she has yet to decide for sure if she wants to teach at the high school level.
"I really like the high school level. I feel like you're able to have more in depth conversations with the students, and you can talk more about ideas," said Pierce. "But there's something really enthusiastic about middle school too. Some of them are still happy to be there and they're not afraid to participate, so I like to feed off their energy."
Her life long passion has not been to teach; when she wa
s younger she was certain her career would be very different. 
"I wanted to be a dentist for a long time," laughed Pierce. "My grandpa was a dentist and he had a dentist chair that, every time we went to their house, we would play dentist in…I really thought I was going to be a dentist, but you have to be good at Chemistry."
Her zen for travel led to her decision to become a history teacher.
"I think the moment I decided, was when I was studying abroad in South Africa," said Pierce. "There was so much that I was kind of sad that I had never learned about, as far as the greater world goes, when I was in high school. I wish I had been exposed to more because I didn't really realize everything that was out there. And when I was in South Africa I was just so excited about it."
Her curiosity propelled her to learn more about the country she was in.
"I would look up the history of everything and relay it back to the people I was with, and my passion was just really apparent; they all said 'you should be a teacher,' or 'why wouldn't you teach social studies?'" said Pierce.
Teaching was the way to go for Pierce; she loves the way her classes are so different. She even teaches two different lesson plans for her U.S. History classes.
"I like that… every hour has a different personality with it," said Pierce. 
Pierce said that her classes are like "night and day". She loves to figure out how classes learn best, and working with that class in a way that best suits them.
"I like the challenge of teaching everyday, and it's something different and it definitely keeps me on me toes."
It won't be much longer before Pierce can teach in a classroom of her own.
"I have to student teach over at the middle school, for sixth graders, so I'll be there for the last quarter, and then hopefully I'll be certified in June," said Pierce.