Sweno Selected as Coca-Cola Semi-Finalist
With this year wrapping up, a student from the Black River Falls School District has been chosen as a semi-finalist for the annual Coca-Cola Scholarship.
The Coca-Cola Scholars Foundation is a non-profit organization that works with the Coca-Cola Company and Coca-Cola bottlers to provide scholarships worth 3 million dollars each year. They have also provided more than 6,600 students with scholarships over the last 34 years.
Kaylee Sweno, a senior at Black River Falls High School, has been recognized for her academic achievements, community service involvements, and her positivity that has affected others.
"It really made me realize that hard work does pay off, and I've worked really hard to be really involved in high school and to keep my grades up at the same time. And it really kind of showed me that you know, paying for college can be a lot more manageable if I do have the honor of receiving some of these scholarships," said Kaylee.
Counselor Sue Leadholm says she was excited to hear that Sweno is a semi-finalist for this scholarship. She only knows one recipient for the Coca-Cola Scholar Award from her years working at Black River Falls High School.
"For Kaylee to be a semi-finalist is phenomenal. I know that a lot of her civic work and community work has provided her with great opportunities to meet people, which is something that the Coca Cola scholarship really recognizes," said Ms. Leadholm.
Counselor Libby Secard urges students to seek out these scholarships as soon as they can.
"Scholarships are free money. And the worst thing that can happen is you go through the process of kind of putting your best foot out there and you are told, No, but it's always worth the effort," said Secard.
Even though Sweno is doing well, she still has a few more steps to take to complete this process. She has to write a more in-depth essay for the next round, and from that round, the foundation will pick 250 people out of the semi-finalists to do an interview with the Coca-Cola scholars and the people a part of the committee. Then they will choose 150 of those 500 students to receive the $20,000.
"It really means a lot to me to be a semifinalist because there were 68,000 other people who applied, and they only chose 1670 students, so I beat out 66,000 other people," said Kaylee.
Scholarships have helped out Leadholm with her master's degree, and she recommends them to high school kids, especially if you plan on going to college. It has helped her children out with their college tuition, and she says it is worth the time and effort.
"My advice to students is, even though it takes some time away from your busy social life, financially, it really can make a difference by filling in as many scholarship applications as you can," said Leadholm.
Leave a Comment
About the Contributor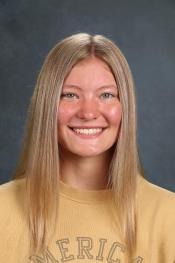 Zowie Hunter, reporter
Sophomore Zowie Hunter goes to Black River Falls High School and is super excited about this upcoming trimester in SRL. While trying to keep her grades up, she competes in a few different sports: hockey, softball, and golf. Along with being in sports, she participates in a couple of clubs like Pep Club and FCA.