Annual Fall Kickoff for FCCLA faces a change
This past month BRFHS participated in a fall kickoff event on October 6. The fall kickoff was an event brought to them virtually by the Wisconsin state officers and included making dog toys for local animal shelters.
"Normally, Wisconsin FCCLA hosts three to four Fall Leadership Academies, but because of COVID and some facilities not allowing outside guests, we decided to do a virtual event because it allowed chapters to be interactive with us officers, and we were able to talk with them live," said chapter member and Wisconsin FCCLA Vice President of Competitive Events Kaylee Sweno.
The state officers decided to create an activity this year that would be fun for chapters while doing something good for their community.
"The activity we chose was to make dog toys out of old t-shirts because they could use up some old t-shirts and provide toys for the dogs at local animal shelters so that the dogs had something to be their very own," said Sweno.
The Fall Leadership Academy that the Black River Falls chapters attend is usually at UW-Stout and typically goes all day.
"There are normally break-out sessions and a keynote speaker and very high energy with at least 500 kids from FCCLA chapters from all around in Wisconsin," explained adviser Sarah Halverson.
The middle school FCCLA chapter joined with the high school.
"On a normal year, we would go to UW-Stout and get to see and meet new people and attend break-out rooms for our projects, but this year we didn't. Not doing this felt really compact, and I think made us feel like we couldn't explore for our projects this year because it was only an hour long," chapter vice president Frances Everson said.
The middle school and high school FCCLA chapters work closely together throughout the year, as the high schoolers act as mentors for the middle schoolers.
"I was really proud of our chapter for almost taking the middle schoolers under our wings so that we could make a really cool community service project and eat some ice cream for a special treat," said Everson.
The high school and middle school chapter members made over 20 dog toys to be donated.
"After we were done with making our dog toys, we took them over to the Jackson County Animal Shelter during lunch and learn," said Halverson.
One of the state officers comes from BRFHS. Kaylee Sweno is a senior at Black River Falls High School and is currently the 2021-2022 Vice President of Competitive events.
"As Vice President of Competitive Events, I serve on a council with nine other officers. My position specifically relates to STAR events and other competitive events in FCCLA. I help to coordinate regional and state competitions and work with people to make sure that everything is set to go. I also work one on one with members about their projects and answer questions for them if they need," Sweno said.
The state officers still got the experience of running the kickoff, but with a twist. The kickoff was hosted virtually through Zoom, and the officers participated in that Zoom while still being with their own chapters.
"It was really fun to be on the Zoom and with my chapter at the same time. I felt as though I could help my chapter, but I was able to be involved with people all across the state. My own chapter members also had the opportunity to be on the live stream too. I also felt like I was able to be a role model for the middle school students and give them a first-hand example on how much they can do through FCCLA," said Sweno.
Leave a Comment
About the Contributor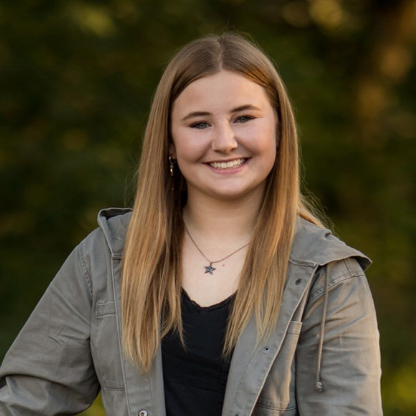 Mackenzie Dougherty, reporter
Mackenzie Dougherty is a senior at Black River Falls High School, and this is her first year on the Paw Print staff. Dougherty is a second-year editor for the Breeze, Public Relations Officer for FCCLA, Vice-President of Science Club, and was the Captain of the Varsity Cheer team this past fall. In her free time, she enjoys both coaching figure skating and skating on her own. Dougherty loves to stay busy, and being on staff sure does keep her on her toes.