Veterans Day hits home for military families
Black River Falls High School commemorates veterans every year with a Veterans Day assembly. Some of those veterans are family members of the students and even staff members of the school district.
Paige Blackdeer has lived in Black River Falls since she was 10 years old after moving around to four different states. These moves were because of her father who has served in the United States Air Force for 20 years. This was up until Blackdeer was in fifth grade.
"I know other people have struggled with moving around, but my family and I were really close, so it was kind of just like a little adventure. A lot of my moving around happened when I was little, so I wasn't super attached to anything," said Blackdeer.
Blackdeer's dad has been deployed five times and his longest deployment was nine months. Although Blackdeer's father has been home, this isn't the case for some of the students at the high school.
Juliet Ayers has grown up in a military family her whole life. Both of her parents and many of her extended family members have served in multiple branches. Her father is currently in Norfolk, Virginia at base, but has recently been to Spain. With him traveling communication, hasn't been the easiest.
"It depends on where he is stationed. On the ship there is no contact. When he was in Spain we could talk to him a little bit more, but it is still very spotty," said Ayers.
Blackdeer and Ayers have both grown up in military households and have been affected by the service that their parents have given. They have celebrated Veterans Day on base and it is a lot different than the assemblies many students experience.
"No one really throws huge parties for it, but there's also stuff on base where it's like 'thank you veterans' and things. It's a really big holiday but not celebrated," said Ayers.
Many people respect veterans but it is different when it is your father. Blackdeer has gained a great amount of respect for her father after watching what he has gone through in his deployments.
"I love my dad, and he's been through a lot in his own life and also comes out of the military with PTSD. So that can be hard sometimes, but it just makes me respect him even more because he still is able to be successful and continue to do well in civilian life," said Blackdeer.
Rebecca Ayers, Juliet's mom and the JAG teacher, served in the Navy for three years. She also went through hard times and suffers from PTSD. Despite the challenges, she enjoyed serving and thought that it was just like a normal job.
"Yes, I had a greater chance of being killed every day while I was in the military, but for the most part you get up and you get your job done. Sometimes you do your job in a different country or a cool place like Hawaii. I worked in Japan. I lived in Italy. It is just like every other job, but you have the possibility of being somewhere else," said Rebecca.
Unlike Memorial Day, Veterans Day honors those who are living and dead. To those who have served and their families, this holiday holds a different meaning. They honor their parents. Blackdeer and Juliet find that the holiday thanks their fathers for their service.
"It is good to know that my dad's time was valued and that people care about it and that they are aware of it," said Blackdeer.
"Veteran's Day is more of a positive thing and we are grateful that my dad is still here," said Juliet.
Juliet honors both of her parents, but Rebecca sees Veteran's Day from a different perspective. She is the one being honored at the assemblies and thanked for her service, but she is also inspiring others.
"When I am on base it just looks like a normal day because everyone is in the military. I think you'll find that the recruiters see an influx of people joining after these holidays," said Rebecca.
Veterans Day means something a little different to everyone. After growing up on base and within the military these families experience what Veterans Day means. They have respect for their own parents and family members who have served, but that also carries over to all other veterans. We honor our veterans during this holiday, and in addition, we recognize their families and the sacrifices they have made. Serving in the military isn't a solo fight. Instead, it takes an army.
Leave a Comment
About the Contributor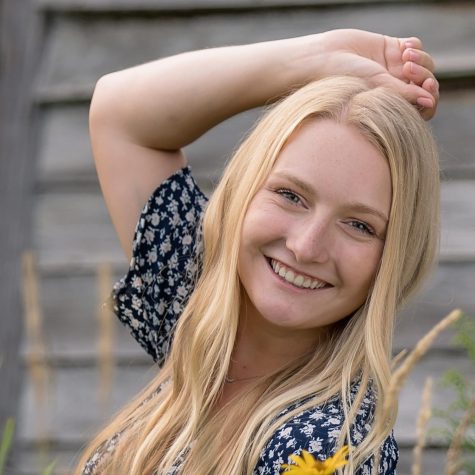 Kaylee Sweno, reporter
Senior Kaylee Sweno tried something new this year and joined the Paw Print. Her senior year has been jam-packed with many activities including FCCLA, NHS, and golf. She doesn't have a lot of free time, but when she does she spends it giving back to her community as Miss Jackson County. Although Kaylee is busy, she still takes time to have fun and procrastinate. Her videos may not be done until the day of the deadline, but they are still always on time.