Looking Forward to Fall '21
BRFHS staff crew will look a little different next year, with some new hires for key positions
Incoming principal Luke Madsen will use his 23 years of experience to oversee a number of changes, including an upgrade of the former lunch and learn system.
"I am in my 23rd year of education as a teacher and administrator, and now I'm an instructional coach," Madsen said. 
Before 2020-21, lunch looked quite different. In the past, lunch and learn was a time to do homework or late work. Madsen wants to bring the time back and add some fun. 
"What we want to do during lunch is find ways to get students positively connected to things that are going on in our building. Maybe some teachers have some crazy hidden skills. Well, we want those teachers to share those skills with you," Madsen said. 
Madsen was previously a teacher at Chippewa Falls Senior High School where he used the idea. Lunches will be designated as A days or B days. Teachers will be assigned either an A day or B day.
"If teachers are A teachers, on A days they'll host their clubs. Then, on B days, the B teachers will host their clubs. What we want to do is try to host all of those clubs during that lunchtime," Madsen said. 
Students used lunch and learn to catch up on work, or they were able to use the gym or the LMC in the past.  
"I really like lunch and learn because I feel like it's giving me some time to get some homework done or catch up on some stuff," sophomore Haylie Schmidt said. 
Madsen is excited to be continuing his education journey to BRFHS with new ideas. He currently is at Mayo High School in Rochester, Minnesota. His plans are to move to BRF for the next school year. 
"Can I tell you, honestly, the thing I'm most looking forward to is being around students again? Because here at Mayo High School just recently in the last couple of weeks, students have started coming back. Otherwise, we have not had students in the building since last March," Madsen said. 
This year at BRFHS campus was open to juniors and seniors during lunch. 
"Campus is going to be open, and I can't guarantee it's open for all sophomores through seniors. We haven't determined that yet, but what I can say is it's going to be closed for all freshmen, so all the freshmen will go to an activity. They have to find something that interests them," Madsen said. 
Along with changes during lunch, there will also be changes to the advising period. Advising activities will take place on A days and resource will happen on B days. Resources is a time for reassessing or reteaching.
Madsen's official start date is July 1.
"I'm just really excited," Madsen said. 
Leave a Comment
About the Contributor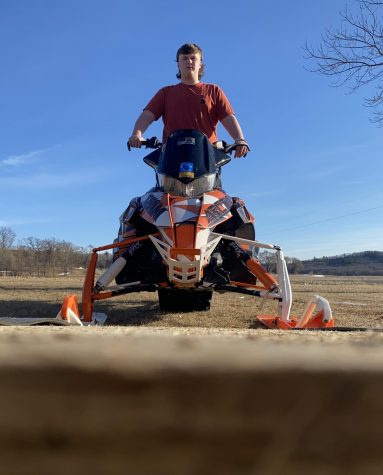 Jacob Ward, reporter
Jacob Ward is a sophomore at Black River Falls High School. It is his first year as a member, and he is a reporter. Jake enjoys snowmobiling, ATVing, UTVing, ice fishing, and many other things outdoors. He is involved in snowmobiling groups across the state and participates in presentations at the international level.