Continuing Involvement in College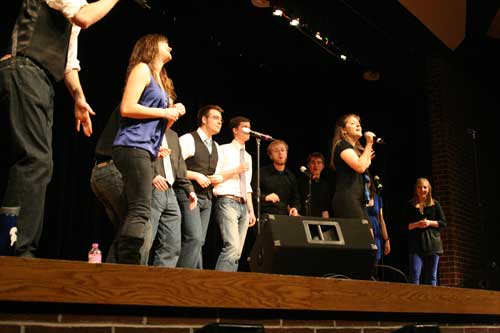 Graduation is a mere 53 schools days away and many seniors are planning for college and the experiences they will have there.
One thing that is important to know about college is that it hosts an abundance of co-curricular and extracurricular activities to get involved in.  There are the typical activities that many high schools support, as well as some clubs and groups that only a college could sponsor, including Men Enjoying Nursing, Quidditch Club, Avian Club, and War Gamers Society.
"Getting involved in college is so easy," said Universtiy of Wisconsin Madison sophomore Danica Rockey, '08, "I have become involved in a number of different organizations related to my major."
Rockney isn't the only former student from Black River Falls that has become involved in a variety of activities in college.  University of Minnesota Duluth sophomore Lori Christie, '08, has also become involved in extra-curricular activities in college, one of which is really unique.
"My freshmen year I joined the university's pep band and women's lacrosse team.  I found a flier for the lacrosse team in my dorm hall and decided to check it out," said Christie, "It's intramural, so it's organized for and by the students, and we have coach comes up from the Twin Cities once a month."
Intramural sports play an important part for many students in college who aren't quite cut out for playing at a college level, but still want to stay in shape and enjoy an activity they have always loved.  Most colleges have at least a few intramural teams, and offer many unique sports too, including table-tennis leagues, wiffle-club leagues, and water-polo clubs.
Sports aren't the only activity that students can become involved in, and many colleges also have a large music and arts department to nurture their student's growth and creativity.  Christie also became involved in Duluth's pep band.
"I didn't know what to expect when I walked into the first rehearsal, but my section leader grabbed me right away, introduced me to everyone, and showed me the ropes," said Christie, "Rehearsals are always interesting, and the performances are a blast!"
Becoming involved is a great way to meet new people and form lasting friendships in college, just ask University of Lacrosse senior Katie Norton, '07.
"Through the activities I became involved in (especially band though), I have met the greatest people and formed lasting friendships," said Norton, "[Going to college] is a little overwhelming at first, and having a group of instant friends by becoming involved is a great way to adjust more quickly.  Being involved makes you feel more at home."
"Being involved is my saving grace, without pep band and lacrosse I would be so much more stressed, plus it just makes college more fun," said Christie.
If you want to get involved in your future school, check out the links below!
UW-Eau Claire http://www.uwec.edu/studentorgs
UW-Green Bay http://uwgborgs.orgsync.com/
UW-La Crosse http://uwlmyorgs.collegiatelink.net/Community?action=getMyHome
UW-Madison http://www.cfli.wisc.edu/
UW-Milwaukee http://www.activities.uwm.edu/
U of M-Duluth http://www.d.umn.edu/campus/
U of M-Twin Cities http://www1.umn.edu/twincities/campus.php
U of M-Rochester http://www.r.umn.edu/campus-life/student-activities/index.htm
Leave a Comment