Making Money
Students at BRFHS have had or are going to have some interesting summer jobs
During the summer students look for a job they will enjoy, for example, lifeguarding, lawn care, or working in a bait shop. Some students have gone further than just staying in the area. 
"I am going to Kodiak Island in Alaska, and I am going to be doing commercial fishing," Blake Williams said. 
A summer job is something that most students or teens are usually looking for. Have you thought about it yet?
"I think I will love this job because I like to fish and I will be getting paid to do it. I used to live in Alaska, so I'll get a chance to go back to where I used to live and I get to fish in a place most people don't get to, or don't go to at all," Williams said. 
Some people when they hear "summer" think of the beach, fishing, boating, fun, sunshine, warm weather, rainbows, late-night bonfires, and camping. 
"I was a dock boy at a resort on Lake Winnibigoshish in Minnesota. I cleaned fish, washed boats, mowed the lawns, and miscellaneous stuff like that," Garrett West said. 
Some people do it for a vacation, some do it for the money, some do it to get away a little bit. 
"I got a lot of freedom of choice about what you wanted to do, I also got to do quite a bit of fishing, too," West said. 
According to ziprecruiter.com, the average teenage hourly wage is $12 an hour in Wisconsin. The top three cities of pay being Wausau at $14.52 average, Racine $14.06 average, and Green Bay with a $13.87 average. 
"In my opinion, I made bank," West said. 
At BRFHS, the Business Education Department has put together a job board". The board has job openings in the local area, summer job opportunities, and volunteer opportunities around town. 
"I figured out about my job because my grandparents used to live in Kodiak as well. They are good friends with most of the people who live on the island. They also know the person who owns the business and asked them if they needed help. They then contacted me about it, and I agreed to it," Williams said. 
Jobs can even be filled with animals, whether it is in the barn or at puppy daycare. Who doesn't like dogs? 
"I work at K-9 Country Lodge in Black River Falls and I love my job. I get to work with and around dogs and sometimes cats all day. I have always wanted to work with animals from a young age. The benefit I get from my job is gaining experience working hand in hand with animals," Kassie Dobson said. 
Jobs come with benefits, but they also come with consequences if they are a long distance away, such as, not seeing family or friends, but making new ones along the way. 
"I think it will impact me, I'll be away from home without my friends and family," Williams said. 
Leave a Comment
About the Contributor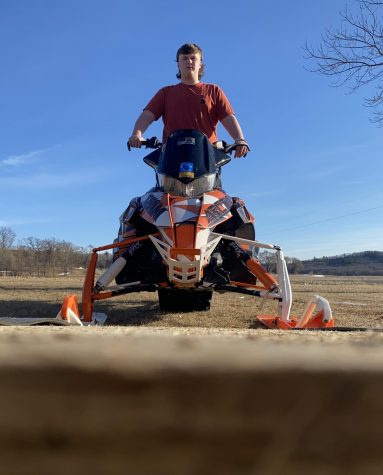 Jacob Ward, reporter
Jacob Ward is a sophomore at Black River Falls High School. It is his first year as a member, and he is a reporter. Jake enjoys snowmobiling, ATVing, UTVing, ice fishing, and many other things outdoors. He is involved in snowmobiling groups across the state and participates in presentations at the international level.