Band is Tuning in for Football
Often when people think of marching bands they think of great music, amazing halftime shows, and an overall motivational presence. However, this year we're seeing something a little different.
 "We only play in the beginning of the game, and we don't march out in the field. It's just a lot smaller, and it's less happy," said sophomore Zach Mueller.
Band director Paula Neuzil has found some struggles with preparations this year, especially with having to follow Covid guidelines.
"There wasn't an opportunity for freshmen to learn some of the pep band music as a small group and go over marching concepts together. Also, we still have to account for social distancing, and with spectator limitations and not being able to play indoors until the end of January," said Neuzil.
Junior Caleb Johnson has struggled with many things in this band season. He thinks that one of the hardest parts about this alternate Covid band is his inability to support the teams fully.
"Basketball is probably the most hype pep band, but because we couldn't play for most of it, I've not really been able to play for the team. One of my favorite parts about the band, it's that all of us got together, like even if it was for a couple of minutes, but this year it's been different," said Johnson.
While preparing for the alternative pep band in the spring, the band was forced to stop playing for the safety and well-being of the players.  During the winter months, the band was not able to play outside and had no instrument-friendly masks.
"In the second trimester when we couldn't play for most of it," said Johnson.
The band was prevented from playing basketball, hockey, and volleyball which really put a damper on their year.
"I miss being able to play in the gym/fieldhouse for pep assemblies and games. There's something about having the sound of the music bouncing off the walls as we play and filling the band section of the stands with everyone playing," said Neuzil.
Although there have been numerous struggles the band has faced, the players and directors have remained positive and hopeful. They have and will continue pushing forward in preparation for next year. 
"To play for pep band this year, we were not able to play volleyball, basketball, or hockey games. Still, being able to play for soccer in the fall and football this spring has been great, though!" said Neuzil.
"I can't get up and close and stuff, you know, as less being close to each other you know it's not as easy, but the people you meet along the way, the friends you make, the experience you have with these people, it's…it's life changing, really," said Mueller.
This year has been tough to make connections within any classroom, yet the students in band came together to make a memorable year for all. They are excited to see what this upcoming year has in store for them, especially soon-to-be senior Caleb Johnson. 
"I think that it's pretty fun, just having a group of people playing music. We all just seem like one. I'm just really excited for next year," said Johnson.
Leave a Comment
About the Contributor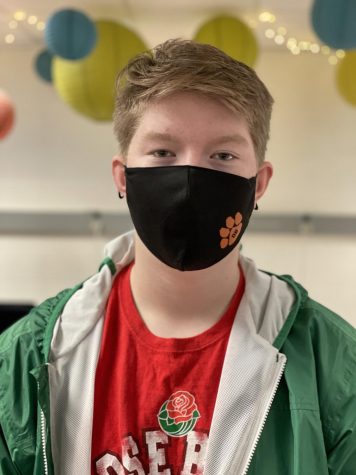 David Becker, reporter
David Becker is a sophomore at Black River Falls High School, and it's his first year as a member of the BRFHS Paw Print as a reporter. He enjoys reporting about sports events and happenings at the BRFHS. In his free time, he enjoys spending time with his family, playing sports, and participating in community events. He is excited to be participating in the Paw Print this year.