A night to shine under the stars
The junior and senior class have been working together to form a prom that will be held on Saturday. Grand March will be held at the football field at 6 p.m. following a dance at the middle school at 7:30 p.m.
Due to Covid, the seniors' junior prom was canceled last year. The option to share their theme with the juniors is something that has never happened before. 
"It was a little rough, but I think they're all on board, and I think they want to work together," prom advisor Nicole Sackmaster said.
Sackmaster has been the prom advisor for two years. She is in charge of ordering decorations for the prom committee, helping set up prom, as well as making sure everything is finalized. 
"The junior and senior class are working together for prom as a whole committee to make everything go easier and faster with the little time when we had to plan prom this year," senior Abigail Hill said.
The senior's theme for prom last year was Starry Night and the junior's theme this year is Enchanted Forest. The classes decided to combine their two themes together to create
"Enchanted Forest on a Starry Night." Grand March decorations will be created by the junior class while the seniors will decorate the inside of the middle school gym where the dance will take place. 
"I'm glad we actually get to do something because a lot of things have been canceled due to our masks and social distancing and COVID. So, I'm excited we get a dance and we get to plan it all," junior Becca Hudson said. 
A change of scenery will definitely occur for this prom.  
"The difference in prom this year is that we're having Grand March outside on the football field, if weather permits so that our friends and family can come see everybody walk on the stage," Hill said.
The prom committee is hoping that the weather stays tolerable for the grand march. If the weather does not permit, Grand March will be held in the Sam Young Gym. A livestream will give parents and friends a glimpse of the attendees. 
"This year I feel very excited and fortunate to have a prom because obviously we weren't able to have one last year so I'm really excited to get the experience," Hill said. 
"This year it's definitely going to be different but I'm really excited to see how it turns out, especially with the seniors and juniors all working together I think it'll be really good," Hudson said. 
After having a wild year of Covid, Sackmaster wants something more for the kids.
"I'd love to see all the kids together. They deserve it. After the year that they've had. They definitely deserve a good dance," Sackmaster said. 
Leave a Comment
About the Contributor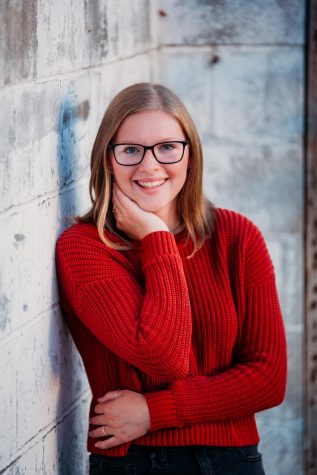 Dani Johnson, reporter
Dani Johnson is a senior at the Black River Falls High School, and it's her first year being a part of the reporting team. She enjoys creating and editing videos together. Enjoyment outside of reporting includes participating in tennis, track, and Shooting Tigers, and she is also a part of the high school band.