Shooting Tiger seniors take on their last year
Shooting for a total of six years, three seniors look at how they are making their last year the best one yet
Shooting Tigers has been a very important sport to seniors Jackson Harkner, Sawyer Iverson and Mason Schultz. They are only a few of who have been involved since seventh grade. 
Seniors who graduate in the 2021 class were the first to start in middle school as intermediate athletes before entering high school level. 
"Instead of normal people shooting four years, we got to shoot six years, so that really just helps you grow and get better," senior Jackson Harkner said. 
"I think it's just like any other sport. The more you practice the better you get," senior Sawyer Iverson said. "The earlier you start, more practice, the better you'll be when you get older."
Athletes have a mind of their own when it comes to someone they look up to. Admiring and respecting a coach or other teammates in a sport becomes valuable for players. 
"My dad's one of the coaches, so I'd probably look up to him because he was a pretty good shooter when he was younger, so I'm trying to try and be like him," Iverson said. 
One of Iverson's goals is to shoot one hundred straight for trap and sporting clays. He is planning on shooting with friends and family, as well as shooting with the team to achieve this goal.
Mason Schultz has a similar goal in mind and that is to shoot a ninety or higher.  He is trying to make every practice because this is his last year to shoot with the team. Sporting clay practices are Sundays and trap practices are Monday nights. 
"I got another year ahead of everyone else, so I got more coaching than the others at the time because I started earlier, which is kind of nice," Schultz said, "the competition's a little harder in high school, so if you start a bit earlier would be better." 
Schultz started to connect with a specific coach. He did a lot of one on one time during practice and would sometimes come an hour early to practice with him. 
Nicholas Janz was one of the coaches for the shooting team. He was a very involved person when it came to youth sports. He created a strong connection with some of the members of the team. Unfortunately, on July 1, 2019 he passed away in a work-related accident leaving a hole in many members' hearts. 
"He impacted me by shooting better for him. So, I just pushed myself a lot harder and just remember everything he taught me," Schultz said, "I looked up to him a lot."
Harkner's perspective of looking up to an individual involves a close teammate.
"Sawyer Iverson. He's just always like, 'put your head down and grind, no matter what'," Harkner said. "I look up to him."
Harkner's main goal for the season is to win the state championship as a team. The team is taking weekly practices more seriously to make the most out of the practice. 
"Just having fun with it, not taking them too seriously, as I did when I was younger, but now that I know what's gonna happen, and I'm not that scared anymore, so I'm having more fun with it." Harkner said.
Leave a Comment
About the Contributor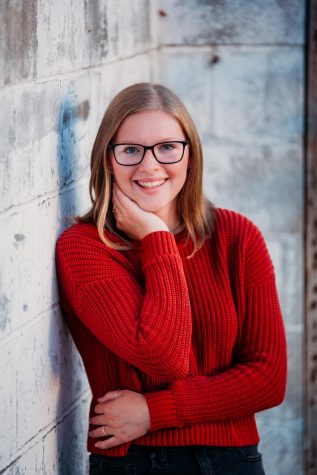 Dani Johnson, reporter
Dani Johnson is a senior at the Black River Falls High School, and it's her first year being a part of the reporting team. She enjoys creating and editing videos together. Enjoyment outside of reporting includes participating in tennis, track, and Shooting Tigers, and she is also a part of the high school band.