Cheer team face challenges from losing five seniors
Many changes have occurred for the Black River Falls High school cheer team due to the loss of five graduated seniors who could not pass on the skills for the upcoming sports season. 
The team's newest members joined in May 2020 when the team held virtual tryouts and joined the full team over the summer for practice. Practice didn't go as planned. After a week, summer practice was canceled, eliminating three weeks of preparation time. Cheerleaders didn't get as much time to learn the game, the stunts or the offense and defense cheers.
"We would have normally cheered for football in the fall, but we cheered for soccer, and so that kind of changed the dynamic of cheer a little bit. We weren't able to stunt," head coach Emily Stewart said.
Stunts are performed skills such as building a pyramid, basket tosses, and cradles. Due to COVID and the contact during stunts, the cheerleaders couldn't perform these things during the fall season. The team members were not sure if they would be able to perform for the soccer team because the football season got moved to the spring. 
With 10 practices before their first performance, the team is putting a lot of effort into knowing how football works. The team has a total of 13 girls and has been focusing on offensive and defensive chants so they know when to use them during the football games.
"It's harder because there's not as many of us to work one on one with them. I think that we're trying to do our best to make sure everybody gets the attention that they need and the help that they need," Dougherty said.
"It was definitely hard to keep up since we also had such a short practice window to be ready for soccer and then now football again. So it's definitely a challenge to learn all the new stuff," freshman Kaylee Youngthunder said.
The five seniors who left for early graduation were experienced. Two were flyers, and three were back spots. The bases help support the flyers and the back spot does anything they can to keep the flyer off the ground. Right now, the experienced cheerleaders are working to pass on their skills to fresh talent.
"I think that one of the biggest challenges is attendance because since we lost so many seniors, absences just matter so much more. We don't have a lot of people there all the time, and so when people are gone, it's just more of an inconvenience," junior Mackenzie Dougherty said.
"We have a lot of room for growth, and it's going to be good to set up our underclassmen for next season," captain Faith Leisgang said.
The team is making every practice count since they will be cheering for three home football games in the spring. There has been a lot of leadership happening between the upperclassmen and lower classmen to make them more prepared for the upcoming season. 
Leisgang has been a part of the cheer team all four years of high school and lettered four years on varsity. She was co-captain her junior year and is captain her senior year.
"I'm looking forward to our three home games. We know for sure we can cheer at those games. We're not 100 percent sure if we get to cheer at the three away games. So, those three home games are going to be the highlight of my season. Home games always have so much more energy. I'm just hoping for a student section to project that energy on," Leisgang said.
Leave a Comment
About the Contributor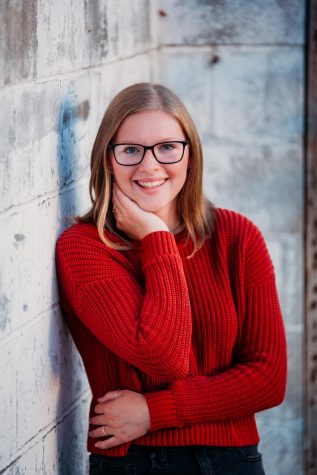 Dani Johnson, reporter
Dani Johnson is a senior at the Black River Falls High School, and it's her first year being a part of the reporting team. She enjoys creating and editing videos together. Enjoyment outside of reporting includes participating in tennis, track, and Shooting Tigers, and she is also a part of the high school band.