Thailand it is
Athletic Director Jay Weinman resigns, plans move to Thailand
Weinman has been the athletic director at Black River Falls High School for two years. He will be continuing his life journey in Thailand this summer, where his family will join him. 
"I will move there in July, and I'm guessing when I get there, I'll be quarantined for a little while. Then I'll have to find a place to live. The school will put me up for a while, but I'll have to find my own place," Weinman said. 
The school Weinman is moving to does not have an athletic director position. However, they would like to add that on in the future. 
"When I first start, I'll be teaching English and film," Weinman said. 
The school he will be moving to is relatively small compared to BRFHS with only around 200 kids. 
"They've got soccer, basketball and track. I am guessing they have badminton. I would bet they probably have about two sports per season," Weinman said.  
Due to travel restrictions that began last year during the COVID-19 pandemic, Weinman hasn't been able to see his one-year-old son, Shen, in China. He interacts with him over the phone. 
"We talk on the phone every day. At night, I talk to him, and he's just getting up for his day. In the morning, when I talk to him, it's nighttime there. He's getting ready for bed, and I just see all the things that I'm missing. I mean, he's starting to walk now, and so, you know, I'm missing out on that. I try to read him books over the phone, and you know, just to try and do those things. So he recognizes me," Weinman said. 
Closed borders in both the United States and China have blocked Weinman and his partner from reuniting. 
"I started talking to the Chinese and the US Embassy, and I didn't make any progress. I couldn't go there; they couldn't come here. As last summer kept going, I started to see that this isn't going to change anytime soon. I started looking for countries that I could get into, and they could get into. I applied in Japan, Cambodia, in the Philippines, Singapore, Hong Kong, Taiwan, and Thailand was the place that I ended up getting the job," Weinman said. 
Weinman is known for his different outfits. 
"He's just a very goofy guy. He makes the athletes look forward to the sport. He is always a good guy. His outfits are really fun to see. Sometimes it will be a running suit," Trey Cowley said. 
When Weinman moves away, he will also leave family behind. 
"My brother and I have been best friends forever, so I really have enjoyed everything about having him around.  We were able to get out on the golf course quite frequently last year, did a little fishing together, and have played a couple hundred games of cribbage.  We've had a running tally since last March, and I am up 59-51," brother Kent Weinman said. 
Kent also has two children, Loki and Solveig. Jay and Loki watched all 23 Marvel movies over the past two years.
"I really hope things get back on track over the next year or so because I am so looking forward to taking my kids to the other side of the planet to meet their cousin," Kent Weinman said. 
Leave a Comment
About the Contributors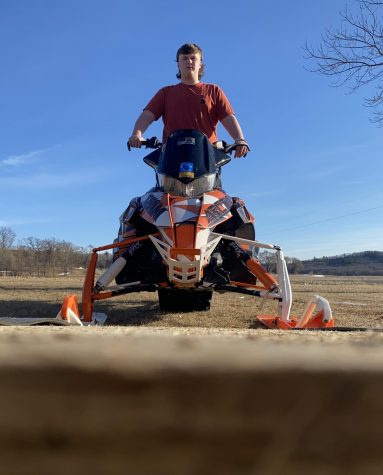 Jacob Ward, reporter
Jacob Ward is a sophomore at Black River Falls High School. It is his first year as a member, and he is a reporter. Jake enjoys snowmobiling, ATVing, UTVing, ice fishing, and many other things outdoors. He is involved in snowmobiling groups across the state and participates in presentations at the international level.