Long Hard Road
Sports taking a toll on high school students
The past year has brought forth many challenges for athletes at BRFHS, but for some, the experience has given them a new perspective. 
Senior Chase Severson is finishing off his last season of basketball in the next week.
"I'm sad that my season is coming to an end because it is my senior year, but I'm also looking forward to starting new stuff up again," said senior Chase Severson.  
Both the boys and girls basketball teams ended up having to be quarantined mid-season, and the time off had a lasting effect on the athletes. 
"I am sad that this season is coming to an end, but our team is definitely making the best of the situation and I think we have definitely started to come together and notice how much this sport has impacted our lives," said Severson. 
Hazel True is experiencing her first winter sports season in Wisconsin this year after moving from Alaska.  
"I was really looking forward to playing hockey here for the first year. We did end up having some changes throughout the season, but I definitely had a lot of fun, and I am hoping next year more people will be able to come and watch games," said True. 
Due to COVID, many coaches and players were unsure if they'd have a season at all.
"I was surprised we were able to have a winter sports season. When we looked back at the spring sports back in August, I immediately thought about winter sports, and it just didn't seem possible with everything indoors," said sports director Jay Weinman.
The uncertainty surrounding sports can become consuming for students who rely on them. 
"For some students, it's their only outlet. I think the lack of activities to attend outside of school has made it difficult for everyone. Having sports gives students at least some kind of outlet and chance to be social- even from a distance," said Weinman. 
The boy's basketball team had quite a few games packed in a two-week span: 11 games in 14 days. That led to them having games back to back every night, and practices adding up.
"I was pretty stressed when it was that last stretch to the two-week span of lots of games. I was sad, but I just wanted to make the coaches and team proud and to make sure that I made this season really count," said Severson.
Leave a Comment
About the Contributor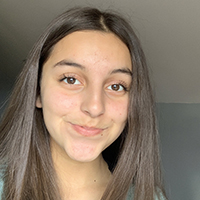 Katie Sedelbauer, reporter
Katie Sedelbauer is a freshman at the Black River Falls High School, and it is her first year as a member of the BRFHS team of reporters. She enjoys creating writing pieces. Outside of reporting, Katie enjoys doing gymnastics and working on the farm. She is excited to create new pieces this upcoming year!