Fair expectations changing story
Due to COVID fair board has had to change preparation and make sure they know what the fair will look like. 
Fair has changed dramatically over the last year. The fair board is switching up the requirements.
"A lot of workshops we usually have to do in-person we are now doing online and watching a video and filling the form out to reduce interactions with others and reduce the spread of COVID," said exhibitor Jaymee Graham. 
COVID reducing familys' wanting to exhibit at the fair because of the worry of getting sick. This can cause barns being less full to not as many things to see and enjoy at the fair. The fair board is wondering if they are going to go back up in numbers this coming year. 
"This year I feel like we'll probably have a few families back that we didn't have last year, so that's going to just improve our numbers overall," said fair board member Dan Anderson. 
Preparation is a big part of making sure the fair is what people are expecting, and the fair board is planning ahead of time of where things are going to be relocated to reduce close contact. 
"Space-wise, we have to plan on where different things are going to be located. I think the plan on carnival rides are going to be as spaced out as possible," said Anderson. 
Exhibitors connected with other exhibitors more last year because there weren't nearly as many people as previous years to interact with. This last year they played many games once they got done working with their animals.
"It's usually you stick with your own group at the fair, and you don't really talk to a lot of people outside of your group, but this past year you didn't have anything else to do because there weren't very many people or rides. So a lot of the exhibitors connected a lot more and we got to play games. It was fun," said Graham. 
COVID is having a huge impact on the fair board wondering how they are going to prepare things this coming year but having a better idea of how preparation is going to go this year, because they are more prepared, and have a better understanding of what COVID is. 
"Last year COVID had a huge impact because nobody really knew what it necessarily was, and at this point, I feel like there's a better idea of how we are going to plan things. So the fair board wants to keep moving forward," said Anderson.
Leave a Comment
About the Contributor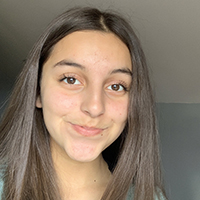 Katie Sedelbauer, reporter
Katie Sedelbauer is a freshman at the Black River Falls High School, and it is her first year as a member of the BRFHS team of reporters. She enjoys creating writing pieces. Outside of reporting, Katie enjoys doing gymnastics and working on the farm. She is excited to create new pieces this upcoming year!