Ready to "re-fire," not retire
Chambers announces retirement, staff recounts strengths
After 33 years, Principal Thomas Chambers has chosen to end his life-long journey in education. 
"I started in education right out of college. I went to college in Minnesota and graduated with my bachelor's degree in 1988," said Chambers. 
Following graduation, Chambers was led by a professor to pursue his career in Europe. He was encouraged to apply for a Fulbright scholarship to become an English assistant teacher in Austria.
"It was a small town, [a] little about the size of Black River Falls, and there were three different high schools in the town that I taught at. That was about 33 years ago," said Chambers. 
After his time in Austria, Chambers began teaching in West Germany in a very historical time: Berliners had taken down the Berlin Wall the previous year. He enjoyed teaching in Germany because of the friends he had from his college travel abroad experience. 
"I had friends in East Germany because I studied there before, so I traveled back and forth across the Iron Curtain many times. They were looking for English teachers in the eastern part of Germany," said Chambers. 
Russian was a common language in East Germany. After the fall of the Berlin Wall, more English teachers were needed. This then became an opportunity for Chambers to begin teaching in the other half of the country.
"I ended up going to East Berlin to the Ministry of Education and told them, 'I want to teach English here. I have the background to do that.' And, within a couple of months, I had a few job offers and ended up at a university teaching English for a few years," said Chambers.
During his time in Germany, Chambers met and married his wife.
"We decided after a couple of years to move back to the States," said Chambers. "The kids were younger, and we wanted to have them experience some international things and learn English, and so we came here for a year to try things out and decided we'd like to move back."
His educational journey began in a cultural way that led him to many great things, from Austria to Germany and back to the United States. It is all now coming to an end.
"I am going to miss being around the kids and the staff. It's going to be strange not to have all the interactions every day with the staff and the kids. That's something that really keeps the person young. That keeps me really excited to come to work: connecting with the kids and trying to motivate the kids and help them with their journey and to help them make decisions on what to do in the future and where to look to find things that inspire them to do the kinds of things that that I've had the pleasure and luck to be able to do," said Chambers. "I just think it's exciting to see where kids end up. It's interesting. It's fun to meet people around town who I worked with when they were high school students who are now business people, or doctors, or all kinds of different folks who have gone away for a while and come back. I'll miss that interaction with those people."
The interaction he has had with his co-workers over his time at BRFHS has been good to both him and to each of them. 
"I have worked with Mr. Chambers for quite a while–since he actually got here. I easily can say that he is extremely good-natured and has a wonderful sense of humor," said guidance counselor Sue Leadholm. 
Like Leadholm, eight other staff members have had the opportunity of working with Chambers since he began at the high school 15 years ago. 
"I have been working with him ever since he came here when he started as assistant principal. I've always liked that he has a door open policy, so if I want to share something with him, or if I'm frustrated with something, even if I am frustrated with him, I feel like I could go right in there and say it. I have never had him not listen to me or act on it right away," said history teacher Tony  Boerger. 
Chambers is good at being a great communicator with his colleagues. He values their opinion.
"I think open lines of communication are a really important trait as a principal. If you have people and students [who] feel like they're on an island and there's nothing they can do, what kind of place is that? You want to feel like you're validated," said Boerger.
After living in Germany and having a wife from Germany, Chambers spoke many phrases at school in German.
"Gesundheit for sneezes, of course, it's not so much the phrases because I haven't picked up on all of that, yet, but when it's a happy birthday he will sing in German, and so he will sing it to different people and different things like that," said Assistant Principal Chris Stalheim. 
While the phrases might not stick entirely with each person, the memories will. 
"I always love to hear him say the announcements and "Guten Morgen" and enjoyed that sometimes when you would hear him speaking to his wife on the phone, he would be speaking part English and part German. When I asked him about it one time, he just said, 'we know it so well we don't realize the different words and different phrases.' But another phrase I really liked him saying is 'Mach es zu Einem großartigen Tag,' which means make it a great day," said Leadholm. 
German is not the only thing teachers will remember about him. He has left an impact on many members of his staff. 
"I am a more confident teacher than I was when he came, and I think a lot of that is his willingness to let me try new things. I definitely am more comfortable with myself as a teacher. I feel like if I had something I needed to work on, he would tell me at the same time and not sugarcoat it. I think a good leader has to do that sometimes, too. They have to be frank with people and tell them when they're messing up," said Boerger. 
Chambers has been very helpful to his staff members, encouraging them to become better versions of themselves and has in some cases placed the best learning tools in their hands. 
"Mr. Chambers is phenomenal with technology, and I could say that I am more old school in the sense of not always being the most confident with different programs and tools that you might use. And he is so good with being kind and helpful in teaching ways that will make the job easier," said Leadholm. 
Staff members will miss his hard work and the dedication he has shown throughout his years at the high school. 
"He has been a worldwide traveler, and so he has that global view, and just the people he's been able to meet and share with us those experiences, that's going to be something I'll miss," said Stalheim. 
"I know that what I'll miss about him being here is that he always was a team player. He wouldn't expect me to do something unless he also would do it. I think that for the counselors and the administration that we had to work real close on different student issues, and I always felt like I could share with him honestly how I felt, and I felt that he could do the same with me," said Leadholm.
Colleagues would like to thank him for his years of dedication to our school. 
"I think I would say thank you. Thank you for being a part of this school. Thank you for all your good, hard work for supporting teachers and students, for caring about their education. I think that the best kind of goodbye is a sincere thank you," said Boerger. 
"I would say goodbye by thanking him for his service. That is how the position is looked at: serving our community and the students and staff in our building," said Stalheim. 
Chambers will be missed by many but is excited to begin his new journey in life after his many years of service in education. 
"As I wrote in my retirement [letter], I am most excited to re-fire, not retire. That's a phrase I borrowed from my wife when she retired. She very much re-fired," said Chambers. 
Leave a Comment
About the Contributor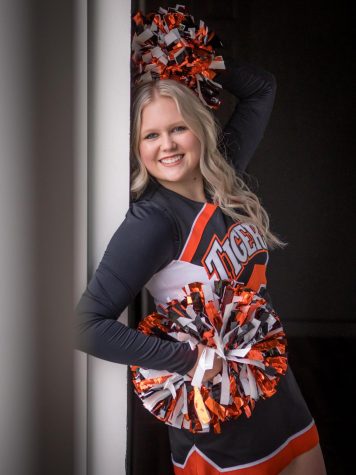 Faith Leisgang, reporter
Faith Leisgang is a senior at Black River Falls High School, and it's her first year as a reporter for the Paw Print. She enjoys covering stories that relate directly to the students, mainly sports coverage and other enjoyable student activities. She is the captain of the cheerleading team and is a part of the Shooting Tigers sporting clays, trap, and skeet team. She is excited to keep you updated on the happenings with Tiger Athletics this year!