Back on the Mat: COVID Edition
The direct contact sport of wrestling has had to tackle many new challenges due to the COVID-19 pandemic this season, from a loss of sportsmanship to the increase in water usage and everything in between. 
"I do not like that the opponents can't shake hands.  Once the match starts they are touching each other and breathing on each other.  It doesn't make sense that they can't shake hands to show sportsmanship," said head coach Steve Markee. 
This change doesn't make sense to the wrestlers either. The WIAA eliminated the handshake before and after a match to help eliminate the amount of contact between opponents. However, after a lengthy match, it seems silly to many members of the wrestling community. 
"You should still have to shake hands after a match," said junior, 138-pound wrestler Jackson McCormick.
After a six-minute match touching and breathing on one another, the handshake to show good sportsmanship appears to be a little worry to the wrestlers, although to a higher degree, it's a big deal. 
"I don't think it's necessary to eliminate shaking hands after the match because you are being a good sport. The alternative should be a fist bump, but I get that we should stay safe," said senior and 220-pound wrestler Geoffrey Garvin. 
During a normal season, the team would regularly face one team throughout the week (a dual meet) and compete in team tournaments on Saturdays. This season duals have now become quads, and tournaments have been eliminated. 
"There are not any weekend tournaments unless we get to have a state tournament series.  We are restricted to one meet every six days.  They have allowed us in January to have four teams at each dual, so we get to wrestle a couple more matches," said Markee. 
With extra matches during a night, extra precautions are being taken to make sure each team has the opportunity to wrestle on a sanitized mat. 
"Each mat gets cleaned after every dual," said McCormick.
Not only do the mats get cleaned after each dual, so do the wrestlers to help prevent the spread of germs. This includes a shower and putting on a new singlet. 
"We stay until the dual meet is over, then shower.  I do not think it is a bad idea to shower after each match at a tournament or after a dual is complete," said Markee. "This also reduces the risk of other things like ringworm, impetigo, MRSA, and herpes."
This change is large. During past seasons, wrestlers would wrestle in the same singlet all day at a weekend tournament with no shower between their matches. Another large change this season is the addition of masks. 
"It is required to wear a mask during the match, and it's tough to adjust to," said Garvin. 
According to the athletes, wearing a mask makes wrestling a lot more difficult. The physical sport is very demanding for each participant. Adding a mask isn't helpful.
"It's hard enough to wrestle a good kid for six straight minutes, but the masks make it ten times harder," said McCormick."
The mask is a change familiar to most everyone. With wrestling, there are changes that are more unfamiliar. Past seasons have allowed wrestlers to weigh-in in the locker rooms in just their underwear to allow for the best weight measurement. This season changed that too. 
"Two more rule changes that many people are unaware of is the hair rule and weigh-ins.  As of this season, there isn't a rule on hair length or hair covers.  Wrestlers now weigh-in with their singlets on and can be done in the gym or a hallway.  Times have really changed," said long-time coach Markee. 
Leave a Comment
About the Contributor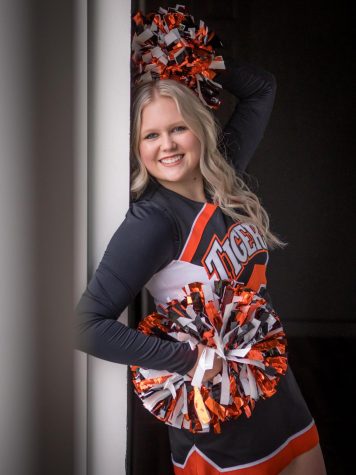 Faith Leisgang, reporter
Faith Leisgang is a senior at Black River Falls High School, and it's her first year as a reporter for the Paw Print. She enjoys covering stories that relate directly to the students, mainly sports coverage and other enjoyable student activities. She is the captain of the cheerleading team and is a part of the Shooting Tigers sporting clays, trap, and skeet team. She is excited to keep you updated on the happenings with Tiger Athletics this year!