First Chance At Privilege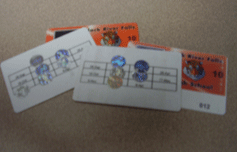 The current term is almost over which means a new term and a new round of privilege stickers. Also, since it is the final term, it is the first time freshmen get a chance to be on privilege.
Good grades are needed for privilege and finals are a big part of those grades. Freshman Karla Burright explained how to prepare for finals.
"In order to get on privilege we would need to ace finals. In order to do that we would need to study… a lot," said Burright.
A lot of the freshmen are happy that they can get on privilege now.
    
"We freshmen are really excited about our first chance at making privilege. I, personally, am ecstatic!" said freshman Kayla Nicolai.
"I'm actually really glad freshmen are getting to be able to get on privilege. Most of the time during focus, I have nothing to do because I get everything done in class," said freshman Jessica Meyer.  
    
To get on the privilege roster, a student would need to have all of their grades consist of B's or higher.  Burright believes that the requirements are a little harsh, but Nicolai says that she understands that the higher the bar is set, the more students would want to push for good grades. 
"I think the requirements for being on privilege are [really great]. [If kids get their work done and turn it in,] then they [shouldn't have to worry about getting] on privilege and should be able to leave during focus," said Meyer.
Leave a Comment