Underclassmen Get New Laptops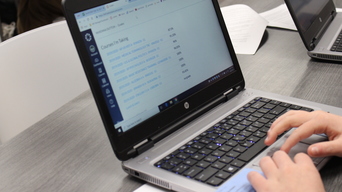 This year, the freshmen and sophomores have mother-nature to thank for the introduction of new technology. The school's original plan for the laptops was that the freshmen would have gotten them regardless; however, all of the sophomore laptops needed to be replaced.

"There was a water leak that destroyed a lot of computers. We had to order new ones, and it was mostly the freshman and sophomore computers that were destroyed," said Tech Team member Brian Higuet.

Last year, all grades used the same model laptop. The HP Probook 640 G2. The laptops ran the same way, restarted regularly, and were navigable for all students and teachers. Many students wonder if these new laptops will require a shift in the way students learn, or if there are any advantages associated with the new laptops.

"The old laptops are slow, they don't connect to the internet, and they don't turn on when they're fully charged. If I shut my laptop, the tabs I have open close. The new ones look nicer and work faster," said junior Faith Leisgang.

Their looks aren't the only difference between the new laptops and the ones the juniors and seniors have this year.

"The new laptops are very fragile because they're slimmer," said Higuet. "The older ones are more durable, and the new ones are faster."

Durability has been a prominent issue with the new laptops. Some may say that giving the freshmen and sophomores new laptops was a risk in itself, but others argue it's the composition of the laptops.

"Many students have broken their screens. We've seen a lot of that. Students just need to be more careful with their laptops," said library director Kaye Quall.

While the discussion regarding the decision to give the underclassmen new laptops has been going on, others wonder if the new laptops provide the underclassmen with a learning advantage.

"I think quality influences how well students do in class. Students are going to want to be on them more," said junior Kyle Gilbertson.

The upperclassmen's laptops have consistently had problems according to those who use them. From internet connection issues, battery life, and the speed of the computer itself, many students recognize the superiority of the new laptops.

"They (the new laptops) have a quality appearance, and that makes us want to work on them." said freshman David Becker.

One thing that students have been reminded to keep in mind is that regardless of the laptop you've been given this year, it's important to take care of them. Whether or not underclassmen have been given a learning advantage is still being debated.

Leave a Comment