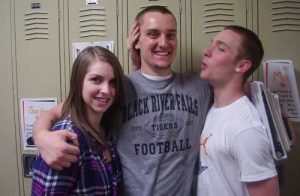 Senior Conrad Bragee found out at an early age that he had a very special ability to cheer people up by just grabbing them with his arms and giving them a big squeeze–yes, cheer by hug.
Bragee has been giving hugs since before he can remember and he has been putting smiles on those faces just as long. Most people describe Bragee's hugs in a very positive way.
"I feel happy when he [Conrad] hugs me and I feel very special," said Senior Cassi Turner.
The exact number of hugs Bragee gives out is under question though.
"Conrad gives me about 60-70 hugs per week," said Turner. 
That means that Bragee gives about 3120-3640 hugs per year to Turner, and he provides her with around 3500 smiles and happy feelings per year. From one person, that is a lot of happiness to give. The only man who may rival Bragee is Santa Claus during Christmas.
In these times of economic downfall many things that brought us joy before may not be available to us. So, in replacement for these things that are no longer able to be purchased, we as humans need to find other things to make us happy. 
"Hugging Conrad brings me a lot of happiness and when that big guy gives you a hug you feel great, and it makes it easier to get through the tough school day," said senior Joel Millis.
Hugging is defined as closing or holding the arms around a person or a group of persons. Hugging has been proven to have its health benefits as well. A study has shown that hugging decreases blood pressure. With his hugs, Bragee has been giving better health to students at Black River Falls High School.
"I like giving people hugs because they make people happy, and they say I give great ones [hugs]," said Bragee.
The most common type of hug that can be given to an individual is a bear hug. A bear hug is also a wrestling move, but it can also be given in a lesser way so that it is a friendly hug. Cuddling is another type of hug where you hug for a extended amount of time.
"People call me a big teddy bear because I'm so huggable," said Bragee. "I give bear hugs. They are my favorite type of hug to give."   
Distributing hugs can be a great way to spread happiness in the school.
"His [Conrad's] hugs brighten my day," said Turner.
Not everybody gives the same types of hugs, though. Some people just literally give better hugs than others. A good way to give better hugs is to bathe so that people like to hug you and never squeeze to hard. Squeezing too hard could give the person you're hugging an uncomfortable feeling and that could be the last hug they give you.
"My favorite person to hug is Cassi Turner," said Bragee. 
Make sure that the person that you are going to hug is in agreement with the hug you are about to give. Only hug those people you are comfortable with. Hugging strangers is not advised.