Civics Team led to Victory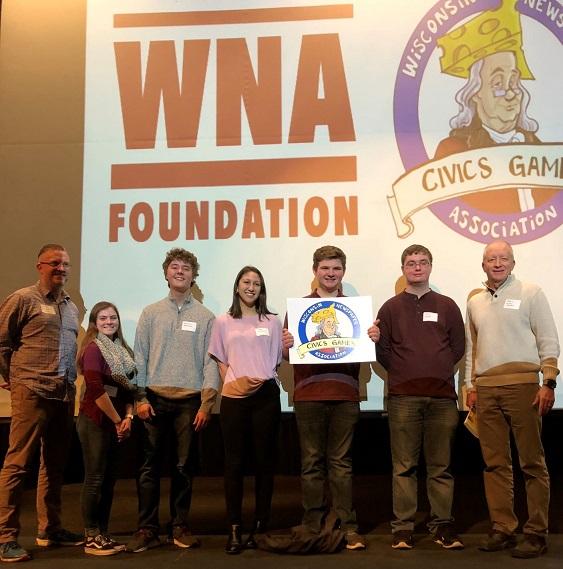 The Civics team is coached by teachers Paul Rykken and Michael Shepherd. It consists of Captain, Sam Lund, Caleb Laufenberg, Zoe Dal Cerro, Graham Rockouski and Madeline Diehn. They competed at regionals in February and placed first.

"Mr. Rykken knows about the disengagement in our current political system, and he wanted to get students involved," said civics team member Diehn.

Rykken recruited many students who get excited by politics.

"We are a group of students who aren't ashamed of being politically involved. We are kind of nerds about this kind of thing. He knew we would want to dig into the government," Diehn said.

Each team member has to be focused on studying for the events. Even though it is individual study, the competitions are based upon the team's knowledge.

"There is a big book that Mr. Rykken gave us (The Framework of your Wisconsin Government). He assigned each team member chapters to remember. It is pretty lengthy with a lot of unnecessary information about government stuff. We practiced every day after school in the week before regionals. We ran through practices questions to try to get us prepared for the competitions. [During practice] We get asked questions and if we get them wrong, we discuss what the right answer should have been," Diehn said.
The team went to Rice Lake for the first ever civics games. The BRFHS civics team won against the other five teams, receiving the first place prize at the regional competition. This qualified the team for state.

"These were the first games so we were not sure what the format was going to look like. We started off slowly, but managed to win through to the final rounds and then we got hot, we answered several questions right and ended up winning the regional," said coach, Paul Rykken.

"We had never done this before. We lost our first round. It was very close and there were some good answers from our side. The second one was painful, but we managed to win. We got put into the championship round," said Diehn.

No team had ever done this before, making it just as strange for other teams involved.
"Regionals was interesting because nobody knew what they were doing, since this was the first ever civics games," said team member Zoe Dal Cerro.

Each of the event's rounds consists of just 12 question, and the only person who rings the buzzer can answer.

"Anyone can ring the bell, but once you ring the bell that person has to answer, no one else on the team can. There are 12 minute rounds with 12 questions. The judges ask a question, either side can answer. If time allows, the other team can take the question," Diehn said.

The civics team is currently in preparation for the state competition. State was supposed to be on February 23rd, but was postponed due to weather conditions.

"State is now the 29th of March, and we are studying for about 40 minutes after school," said Dal Cerro.

"We are still studying the same material, we just need to review and feel confident with our knowledge. We will start having practices again when state is determined." said Diehn

State is important to the team members, as bragging rights are not the only thing on the line this time.

"Each member [of the winning team] will win a $2000 scholarship for a UW university. It can help out our whole team with our futures," said Diehn.

"The goal of the competition is to promote greater civic awareness in our schools, especially concerning the workings of the Wisconsin government, so part of our incentive is to represent our school well and highlight the type of work we're doing with students," said Rykken.

The civics team doesn't plan to stop after this year. Many members plan on returning, and the coaches are planning to recruit new members for upcoming years.

"We want to recruit new members. Mr. Rykken tried to pick underclassman so we have juniors are our oldest. We want to have an experienced team going into next year. When the juniors are gone, we'll have to recruit new sophomores and freshman," Diehn said. "We have to make sure they are willing to be active and studying, and a bit knowledgeable with government. We'll have to pound questions into their head and make sure they know the material."

Leave a Comment