Who Done It: Morgan Stittleburg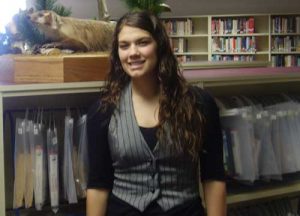 All kids who take a clothing class with FCE teacher Sarah Halverson  get the chance to make some pieces of clothing of their choice. Some kids take the easy way out and make a blanket, a pair of pants  and a knit hat. But others such as Senior Morgan Stittleburg try harder pieces of clothing such as dresses or vests.  
"I've made dresses before in clothing, but I just wanted to try something new and fun," said Stittleburg.
In most clothing classes you have to make a minimum of three objects to garner an A in the class. In Clothing 1  you learn the basics of sewing and the sewing machine. Clothing 2 is a more advanced class and is paired up with Clothing 1,  but the students have more freedom to try harder pieces of clothing. Not all the pieces of clothing  take the same amount of time to make. The more advanced pieces take longer than the more simple ones.
"It took approximately three weeks or so to make my vest," said Stittleburg.
Stittleburg has taken both Clothing 1 and 2 is currently taking an independent study/teachers assistant for Clothing class.
Leave a Comment