What the Bell?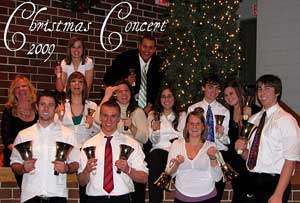 Second lunch students during the past fours years have shared lunch with a group of 11 to 22 who spend lunch either excited or incredibly glum discussing the finer points of the perfect martellato or possibly the technicalities of weaving.   
These groups of students are the Class A handbell choirs, a selected group of 22 musicians who perform one of the most visually impressive forms of instrumental music.   There are two choirs this year, Big A which is composed of selected juniors and seniors, and Little A which is composed of other students with an interest in handbells. 
 "Handbells are very difficult to master and take a lot of practice to play well.  Ensemble members must work as both a team and individuals to play the pieces correctly, and the ringers must be absolutely dedicated to their music.  The result is visually stunning," said Barb Olson, director of the high school's handbell choirs. 
A handbell is just what the name implies, a tuned bell designed to be rung by hand. To ring the bell, the ringer (the musician playing the bell) holds the bell by its handle and snaps her wrist – providing the momentum for the clapper inside the bell to ring.  Handbells typically come in tuned sets of twelve bells (one complete octave). 
"We currently have three octaves of handbells.  They were purchased in 1978 by community member Betty Epstien.  We've added some accessories over the years including mallets, stands, new tables and table covers.  To replace our current set of handbells would cost upwards of $11,000.00," said Olson. 
Handbells have long been associated with religious music, and rightly so, as handbells are often played in many Christian churches on special occasions, but there is also a multitude of contemporary music for the modern handbell choir ranging from jazz pieces to Broadway favorites. 
"My favorite song is definitely our arrangement of Phantom of the Opera," said senior handbells Big A choir member Emily Lahmayer. 
"If Ms. Olson would ever let us play it, Joel Lahmayer's [Class of 2008] arrangement of the Super Mario Brother's theme would be my favorite," said senior handbells Big A member Sidney Mahan. 
The high school currently has two handbell choirs, although in past years the high school has had three.  This number is smaller this year because both choirs have been selected to play Class A handbell literature (the most difficult level) for this year's Solo and Ensemble competition on March 27. 
 "It's really cool to have two Class A ensembles," said junior handbells Little A member Caitlin Nelson. "It's really awesome to know that after this year's seniors are gone we'll still be continuing the tradition of a Class A handbell ensemble." 
"I really love being involved in handbells," said freshmen handbells Little A member Camille Gunning. "It's making me a stronger musician and has really helped improve my counting ability." 
Students aren't the only ones who are passionate about handbells–so is Olson. 
"I have such a passion for handbells. It's hard to describe.  It makes me so happy to watch the ringers grow as musicians and develop into better people through the music.  It fills me with joy," said Olson.
View Comments (2)