Custodio represents Native youth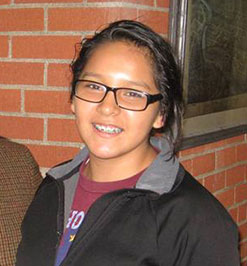 Michaela Custodio represents the Native Youth throughout the "Indian Country" with a voice.  She stands as a National Congress Of American Indians Female- Member at Large Youth Commissioner.
In the beginning, Custodio was offered a trip to California, but the people that asked her if she would like to attend did not really know much about it. So she went there completely unaware of what was to come. She was pretty much blindsided.
"After that conference, I was like, 'Wow, I didn't know there was this much to do!' This was the year they did elections for the Youth Commission, but the age group that was required was 17-26, and I was 15, so I couldn't run. I made plans to run for the next elections in two years, and BOOM, I got it."
Custodio has some motivation when it comes to being a part of this for a while.
"There is a lady who has been attending NCAI events and has not missed one for forty some years. Her name is Juanita Ahtone. So far, I'm on year three."
Since Custodio has been doing this, it has impacted her future career goals.
"I now would like to do something that would be beneficial to Indian Country. I also thought that I could do a little something in American Indian Studies when I go to college."
There are also some issues that come with the conferences so that has inspired Custodio.
"There are many issues that go about at the conferences, especially about what Native Youth face in this day and time, and being a voice for Native Youth around the country. [It] has really inspired me to do something in life."
One of Custodio's challenges was her age. She was 15 and everyone else was 17 to 26.
"It was definitely a challenge to understand what they were talking about. Another thing that I didn't see coming was the fact that so many tribal leaders had come together to talk about problems and issues that these people had faced."
Doing this has taught Custodio how Native Americans really come together.
"It really surprised me by how united Native Americans truly are. We fight for each other and overcome obstacles as a unit. That's what you truly call inspiration. I was extremely intimidated by how professional everyone was. I went to my first conference in jeans and a couple nice shirts. But then again, I would say that doing Capitol Hill visits in Washington D.C., was probably the most terrifying thing in my life. The fact that I was face to face with our state senators was crazy. I just could not think straight at all!"
Leave a Comment