EEF grant makes sound booth possible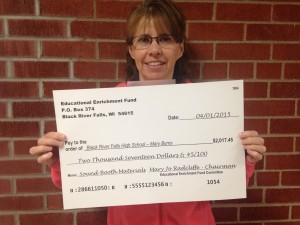 Educational Enrichment Foundation presented high school business teacher and virtual school coordinator Mary Byrns with $2,017.94 grant April 1. Byrns and high school technical education teacher Andrew Richard are teaming up to create a lab for students to use throughout the day as a quiet study room.
"The lab will be used for virtual school students who need a quiet place to take tests, study and practice language skills. Other students and teachers in the school can use it if they want to do a screencast or have a quiet place to study," said Byrns.
In the lab, there will also be a sound booth for virtual students to use if they need a quiet place to do screencasts and language recordings.
"The construction class is going to build [the sound booth], which is kind of nice so the students will get the experience, and we'll also save money that way," said Byrns.
While Byrns and some of her students will pick out comfortable furniture for students to do work and study in, Richard and his construction class are building a sound booth that will go in the lab room.
"We are creating a booth where students can have video conferencing with a different school. So just a fully quiet area with a window, door, drywall and insulated," said Richard.
The room will be completed by the winter of 2015. Although the construction will not start until the 2015-2016 school year, Richard says that they have already started preparations. "We've done the full estimate with different materials for the installation," said Richard.
Byrns says that she decided to use the money for a lab and sound booth based on feedback from students. Senior Taylor Inches has been one of those students. Inches has been working with Byrns since October of 2014 to make this lab happen.
"I went to Mrs. Byrns and we brainstormed ideas of how we could make this work," said Inches. "Once we decided what would go in the new lab, I made a floor plan and presented the information to Mr. Chambers."
Both Byrns and Richard agree that this will be a great experience for all students.
"The kids will get a hands-on experience of constructing interior finished work, which is something we haven't worked a lot with," said Richard.
"This new booth will help students with education. They'll do work at school, get it done and it will serve as a quiet place. We need more quiet spaces," said Byrns.
Byrns's hopes for the lab is that students and teachers will take advantage of this space as a quiet room to study in and complete work.
Leave a Comment