Pacetti leaves on a high note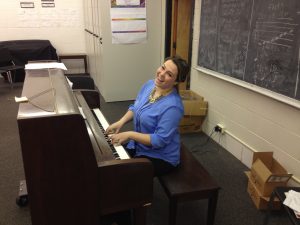 Choir teacher Gillian Pacetti has announced her plans to not return and teach next year, and many students are not happy about the news.
Since the two years she has taught here, many students have really started to like her as a teacher. Sophomore Jacob Victor is not happy about her leaving.
"I really feel bad about Ms. Pacetti leaving. She's a good teacher, so I wish she was staying," said Victor.
In the two years she's been here, she has made a few great additions to the choir program. Some of these these additions being a capella and barbershop. Junior Mary Onstad participates in many choir activities and feels like it is partly the students' fault that Pacetti is leaving.
"It really makes me sad, and kind of angry that Ms. Pacetti is leaving. It makes me feel like there is something wrong with our school, or the kids in our school. Since I've been in middle school, I've been through four choir teachers leaving and two private lesson teachers leaving. It's just kind of depressing that I can't stick with anybody throughout school. My senior year we are going to have to start over with someone completely new which is going to be hard and frustrating. It just makes me sad because I really like Ms. Pacetti and I'm going to miss her a lot. I like the fun times that we've had and the things that she's incorporated into class."
Band teacher Paula Hardie has enjoyed working with Pacetti. They have worked with each other for two years and have collaborated on many musical events.
"I think Ms. Pacetti has had a really positive impact on the students here. Kids are really excited about choir and she brought new ideas such as the a capella choir, so she will definitely be missed. As a colleague, I have really enjoyed working with her and I wish her the best of luck at her new job," said Hardie.
Pacetti decided to leave in order to be closer to her hometown of Waukesha. She accepted a job teaching at Oak Creek Middle School and High School.
"I think number one, I've worked with some really great students and got to create some really awesome experiences for them and myself like the a capella groups and the festivals that we've gone to. Also I think I've worked with some really great staff and I've collaborated a lot with Ms. Hardie and I'll miss working with her along with all the other great students I have had the pleasure of teaching," said Pacetti.
Leave a Comment