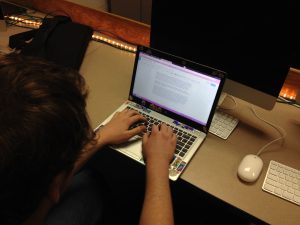 Dear teachers,
Students do have lives outside of the classroom.
It is common for us to get homework for all four of our classes during the day, and we are expected to have all of the assignments finished by next class. This is an immense workload and many of us do not have the time to do the work. We have sports after school and may not get home until 5:00. Some have two sports at once and end up getting home at 7:00.
Homework can be incredibly hard at times, too. If we as students do not understand homework, there is often no way to figure out how to do it because the teacher is not able to help. Homework is often a review of materials learned recently, and if we did not grasp the concept during class, we are pretty much hopeless by the time we have to do the homework. With no one to help us, we are forced to struggle with something we do not understand and learn bad habits to find answers.
All students at BRFHS have heard this before: "This should take you no more than 30 minutes." You as teachers say this and probably think you are being very kind to us by only giving us 30 minutes of homework, but what you do not realize is that we hear this in almost all our classes. If each teacher that a student has in a day says this the student is stuck with two hours of homework. Two hours of sitting at home doing work that is either a review or a new topic that we have to struggle through.
Now, let's think back to the students who get home at 7:00. If they have two hours of homework and get home at 7:00, they are finishing their work at 9:00. If they did not understand some of the assignments, the work could go on for another hour. Now if you factor in eating and getting ready to go to bed, it is not uncommon for some students to get to bed at 11:00. That is not healthy for high schoolers, and if you ask some when they go to bed, chances are they will say they often go to bed around this time. This leaves no free time for students and increases stress.
"There have been many nights that I have stayed up late to finish homework and I know many other students that have had to do that as well.  A lot of times it seems that teachers tend to give out a lot of homework at the same time, so we have a lot from all of our classes making it very hard to get it all done.  Also, many students are involved in extracurricular activities that teachers encourage them to be in, like sports and clubs that take up time after school and may cause them to get home late after meets or games," said sophomore Kacey Koenigs.
So what can be done to fix this? Homework does not have to be eliminated altogether, but teachers should talk with each other and try to find out if students are starting to get overwhelmed. If a student does not finish their homework, then the teacher should listen to why they didn't finish the homework. If they explain that they got homework from all teachers and barely had time to do it, then the teacher should be forgiving and cut them some slack. In general, teachers should just try and realize that students have busy lives and sometimes have trouble finishing homework.