Baseball Builds a Team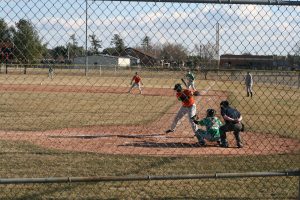 Since the beginning of the season, baseball head coach Jake Dahlke has stressed the impact of becoming closer as a team. The players are following the motto "Band of Brothers" for the season.
The team has lost some seniors from last year and have to gain back the talent by putting in the best work at practice, staying together, and keeping every teammate out of trouble so that nothing will end up making the season an unsuccessful one.
"We are trying to become closer by using a motto Band of Brothers. It's where us players have to keep each other up with encouraging comments when there are successful and unsuccessful parts of the season," said junior Dylan Chown.
Ever since the beginning of the season, the coaches have included a drill during practice that is called 21 which helps the players come together and get better at their fielding abilities.
"The drill 21 that we play in practice is where we as a team are out in the field and we have to get 21 outs in a row before we leave practice. If we get to 20 outs in a row and not get another out, we have to restart from zero. It's a fun and enjoyable drill to do which makes us have more focus and determination to become better players," said junior Eli Parker.
Dahlke has encouraged the players with different tactics to do in practice that will end up benefiting each player so that they will have a successful season.
"Some different things that coach has made us do before every practice and game is give each teammate a hug and a high-five. We do this so that us players gain the trust in each other and feel comfortable as a team," said Parker.
The impact of giving a hug and high-five at every practice and game will give the players more confidence in themselves to perform at their best level in any type of situation that happens thoughout the season.
Leave a Comment