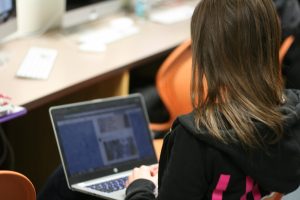 Ask most students how they begin their day. The answer? Check their cell phone, Twitter feed, or Facebook. Sophomore Nikolas Pardoe isn't awakened by the glow of a screen.
"I usually get up, go downstairs, and eat breakfast right away. Then I go back upstairs and shower. Afterward is when I usually turn my phone on and put it in my pocket; I do usually check Snapchat and/or Instagram briefly for new messages/posts from my friends at that point, but that is about it," said Pardoe.
Now that our school has gone one to one, it gives students an easier access to social media sites. Even with the easier access, senior Ethan Young doesn't use his social media accounts very often.
"I do use social media. I have a Facebook and Twitter account, but I just would not call myself an active user on a regular basis. I guess I don't see the premise or necessity to post or tweet on a day-to-day and certainly minute-to-minute basis. I am not a person who is engulfed in their cell phone, which certainly reduces my involvement with social media," said Young.
A Paw Print Online poll found that, 91% of BRFHS students who responded have social media accounts. Of that 91%, 20% do not use their social media accounts daily. Social media can have a positive, or a negative effect on students. Although Pardoe does not use social media very often, he has had a positive experience with it.
"I'm not entirely sure when I would say my first experience with social media was, probably watching YouTube videos, but not really the kind of follower-oriented videos popular today. I guess I would say it was positive, it was certainly interesting and fun," said sophomore Nikolas Pardoe.
Many students don't use their social media accounts very often for different reasons.
"I don't use most social media sites because I don't think I would have time," said sophomore Zachary Severson.
The school district posts late starts, and school closures on their Twitter and Facebook pages. However, Pardoe does not feel that this is the only way you can obtain this information.
"In my experience, not much information that is available on social media isn't already easily accessible elsewhere. The school's automated system calls our house when there are changes to the schedule, and we receive emails from them as well, so we are well covered as far as that goes. For actual news there are plenty of online news sites," said Pardoe.
Students begin and end their day in similar ways; by checking social media sites. Some students prefer to end their day in a different way.
"I will look at social media sites like Facebook from time to time at the end of the day. Usually I end my with some sort of snack while watching what happened in the world in regards to news and sports," said Young.