Teachers, Students Clash over Clash of Clans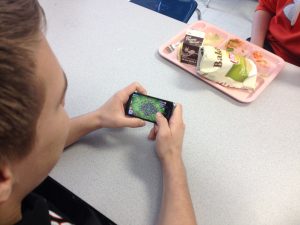 Students are starting to play Clash of Clans when they are not supposed to, and by doing that, they are starting to clash with the teachers and the school policy that says that phones must be turned off in classrooms.
According to Indiana University, "Any activity, substance, object, or behavior that has become the major focus of a person's life to the exclusion of other activities, or that has begun to harm the individual or others physically, mentally, or socially is considered an addictive behavior." To many people, Clash of Clans fits this description.
"I think that Clash of Clans is addicting because you are able to attack other people. It gives me such a rush to destroy someone else's village. It is also addictive because the more time you are on the game, you will do better. When you are on you can not be attacked, so you always have an urge to be on," said sophomore Kyle Peterson.
Peer pressure adds to the addictiveness of Clash of Clans. Many students are playing Clash of Clans. Students make a clan and then tell other students to join their clan. This was the case with sophomore Zack Zillmer. He kept hearing about Clash of Clans and eventually decided to get it.
"I was on the hockey team and everyone else had Clash of Clans. They were always talking about donating troops, and I thought that sounded like fun. I could not get the game for a while, and I finally got a device that could get the game and I got it right away," said Zillmer.
Some students still have an urge to play Clash of Clans even after playing it during the allowed time at lunch. Clashers ask for a pass to go to the bathroom or do something else, and then they play Clash of Clans in the hallway or in the bathroom. Teacher Bradley Lobenstein sees students playing on their phones often.
"One thing I've noticed is that when I see students walking through the hallways, I frequently see them with their phones out and sideways which almost always means they are playing Clash of Clans these days," said Lobenstein.
Some students do not even leave the classroom to clash. They will play during class and do not care if they get caught, but most of the time they are not caught. Sophomore Nick Hagenbrock feels it is partly the teacher's fault.
"I am more likely to play Clash of Clans in the classrooms that are more laid back. Many of the teachers will see you playing it but just not care," said Hagenbrock.
Clash of Clans is not all bad, however. If used at the right time, it can be a tool for teachers to get to know their students. Teacher Bradley Lobenstein thinks that it can be used for school-related purposes.
"I started a clan of my own, Lobitown, if you want to join, and it is populated mostly by students. First of all, by my advising group which kind of gave us more unity inside of school and outside of school. I really like that. Then it started picking up members from other groups and other people got involved. I enjoy that I have some former students that are in my clan as well as some students that are brothers or sister of some of the students I have presently."
Leave a Comment