Art Students Influence Others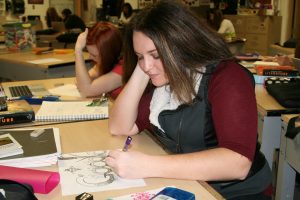 The art department is filled with many students that not only grew up with artistic talents but fell in love and stuck with it.
Junior Samantha Guillaume has signed up for many art classes through her high school career because of her passion to draw.
"I have always been interested in drawing. Since I was first able to pick up a pencil I drew. I was influenced by the things around me, mainly pictures in books. When I was little I always tried to be as awesome as the famous artists, and it was just something I loved to do. It was something I was really good at, so I started working away to get better at it," said Guillaume.
Guillaume isn't the only one who has an interest in drawing.
"I've always been into crafts and drawing since I was a little girl, and the more I drew the better I got, and with my family's encouragement, I kept with it and fell in love," said sophomore Megan Engebretson.
Sharing the same heart for art is junior Mary Onstad. Onstad, however, learned to draw through a different technique.
"My grandmother was a very talented artist. Although she never taught me much she would get me an instructional art book every time she came up from Florida. That's how I learned to make things look more realistic," said Onstad.
Besides their love for drawing, they also have personal views of art and how it helps to express themselves.
"I think my favorite thing about art is how unexpected it can be. Sometimes when I'm drawing I'll have an image in my head, but when it goes down onto the paper something completely different happens. That can be a good thing or a bad thing. It's just fun to go with the piece and let it take me where it wants to," said Onstad.
In the art department students can put themselves out there and influence others to join the classes.
"I would rather be artistic than a good singer any day. Art is purely visual, which allows you to interpret the piece however you want. Also, I find the colors and compositions enchanting," said Engebretson.
Leave a Comment