NHS: Students excited upon induction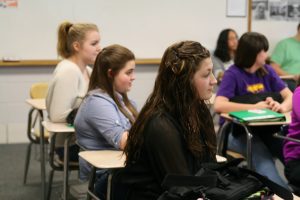 Question: What are you most looking forward to in being in NHS?
[box]
Every year, the National Honor Society holds and induction ceremony when they induct new members each year. This years' ceremony is today at 7 p.m. Here are some of the things new members are looking forward to when it comes to being in the National Honor Society
[/box]
"I look forward most to helping the community," said sophomore Chayla Dobson.
"I am looking forward to getting involved with the community and plus this will look really good on my college application," said sophomore Grace Simonson.
"I am really looking forward to learning how to better myself in leadership," said sophomore Mariah Gaier.
"Just being able to be with a group of wonderful people and volunteering," said sophomore Ciara Koboski.
"Being in another club with some new people," said sophomore Zachary Zillmer.
"I am most looking forward to the new experiences and new opportunities. I am super excited to be a part of NHS!" said sophomore Arianna Anderson.
"I'm looking forward to experiencing new things and developing as a person," said sophomore Tiana Loftsgordon.
"Getting to see what the organization does as a whole, and just being a part of it," said sophomore Natalie Gawron.
"The thing I am most excited for by joining NHS is I am now a part of a group of students who care about their education and want to learn to succeed in life. I also think that doing community service as a member of NHS will be good life building experiences and helping people is always a huge plus. NHS will look fantastic on a college resume because myself and my fellow classmates are part of such a prestigious group. NHS has been something I have been working for throughout my high school career because I being a part of it is such a honor. I feel that Mrs. Broker also has a incredible grasp on NHS by being prepared to offer its members many opportunities as well as creating relationships with the members," said sophomore Tyler Leadholm.
"I look forward to working with people and helping the community, as well as preparing a bit for my college endeavors," said junior Gary Ramos.
"Helping the community as a whole NHS group," said sophomore Kristine Johnson.
Leave a Comment