1:1 Laptops: Students Should Stay Positive and Be Responsible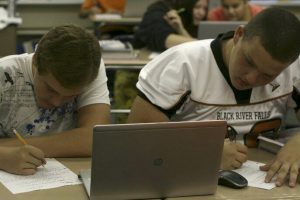 This school year has been filled with changes. One of the biggest changes we have experienced was the introduction of the laptops. As frustrating as this can be, students need to stay positive, mature, and responsible throughout this period of learning and change.
Nobody knew what it was going to be like and how people were going to react. Unfortunately, not everybody seems to be 100% on board. There have been complaints that the use of the laptops has made things difficult and it takes longer to complete assignments. With some students this may be true, but we are not alone in this change.
A 2005 study lead by Scott McLeod J.D., Pd. D, an Educational Leadership professor, found that nearly 20% of American high schools are using laptops full time and that number has risen.
Technology has taken over our world. Pew Research Center conducted a survey that explored technology use among 802 youth ages 12-17 and their parents. They found that 78% of teens now have a cell phone, and almost half (47%) of them own smartphones. 23% of teens have a tablet computer–a level comparable to the general adult population. 95 percent of teens use the internet, and 93% of teens have a computer or have access to one at home.
The use of technology in our school should have been no surprise to students and parents. Unfortunately, students are not taking to them when it comes to education.
Almost daily, teachers hear that the laptops are a distraction, that they're giving more homework and that families don't want to pay for the insurance if a computer breaks.
When it comes to the computers being a distraction, this is no one's fault by the student themselves. The teachers don't ask students to get distracted by games and Twitter. This ties back with being responsible and mature in order to be successful.
Regarding the complaint that the teachers are giving more homework could be a valid point, if a student has taken that course before the computers. Technology Coach Mrs. Byrns says that every teacher gives a different amount of homework with each class depending on the difficulty of the course. Students are quickly to judge courses they haven't taken. How does a student know there's more homework when they've never taken the class?
Social Studies teacher Paul Rykken says that he has not given more homework this year due to the laptops. If fact, he thinks that he is giving less. He thinks that students feel like they're getting more sometimes because of the 24/7 nature of the computer–you always have all your classes with you in a sense. You carry them around all day at school and then take them home.
Lastly, the controversy over the insurance is understandable. High School Principal Tom Chambers says that he believes that staff need to keep teaching and stressing to students that they need to treat these with more care and be aware that they can and do break. When that happens, students and families are responsible for the cost of repairs. Insurance is much less expensive than the repair to a cracked screen.
Some parents never wanted the laptops for their students.
While the availability of a laptop is frustrating for some families, the use of technology isn't going away for those who are planning on further education.
In 2010, PEW Research conducted a survey and found 88% of undergrad students were mandated to own a laptop for their classes.
The use of laptops in schools is just beginning. In order to get the most out of them, we need to maintain a positive attitude. There have been many opportunities to receive training on Google Drive and Gmail from people on the Tech Team in the beginning of the year. Unfortunately, many students did not take it seriously and are now blaming their confusion on everyone but themselves.
Everybody adjusts to change differently. But when it comes down to it, students need to stay positive and welcome this change with a good attitude as mature, responsible young adults.
Leave a Comment