High School Students Audition for Camera Time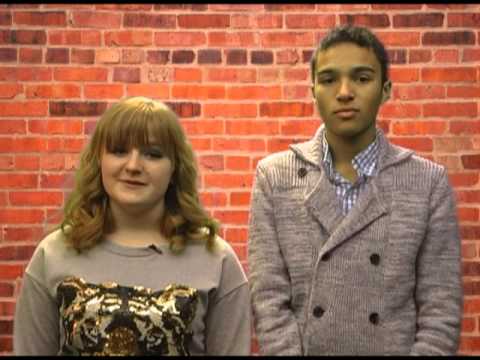 Tuesday through Friday, students step in front of the camera to tape morning announcements. 
High school students auditioned for one of the eight permanent anchor spots at the GM97 studio January 12-14. Auditions were open to all students.  These positions are an opportunity for someone who wanted the anchor the announcements but never had the time or the chance to anchor.
"I think the auditions are really great because everyone is not fit to be in front of a camera," said senior Lexie Smetana.
Since the first video announcements, students would volunteer to read the announcements to the school. Now there will be anchors scheduled for the morning announcements for the second semester. Students like Smetana did not have any problems with the way the announcements used to be.
"But it's kinda like 'Oh who's going to be on the announcements today' like some days there are the football players, and then they have the band people, people from different clubs instead of the set few people," said Smetana
GM97 had the variety of students who experienced what it was like to be on camera, but sometimes chemistry was a challenge.
"I think that having permanent anchors should show consistency so it's not like 'Oh who is going to be on the announcements this morning' and then you're waiting," said freshman Nicholas Greenlaw.
As much as students would like a shot to anchor for the announcements, others would like a few more requirement than simply auditioning for one of the anchor spots.
"I think it should be a privilege to do the morning announcements like anchoring," said sophomore Andrew Bohenstengel. "If you have good grades then that should apply to the morning announcements.
Some of the students don't feel the same way about this. Students are looking for anchors who are confident in front of the camera, and the anchors are not stumbling through their words. They would also like a little sense of humor to brighten their morning up a bit.
"The selection process I think it should be taken into account, the chemistry between the anchors or who works well together instead of just having the best people," said Greenlaw
"I would like someone who would be very funny, but also know how to be serious," said Smetana. "There are people that are funny, but they don't know when to stop being funny like a class clown, but I think being funny and very well liked is very hard to find, because everyone has enemies in school. Someone who is all of that and very nice."
The judging process had a group of five judges, Maureen Ruka, Brad Lobenstein, and former anchors Sam Ripp, Hannah Fendt, and Josh Hanson, went through all of the anchor auditions and ranked all the anchors in all of five different categories, overall neatness and appearance, voice intonation, fluency, accuracy and body language.
After all the scores were tallied up, the six anchors are Devin Newby, Kyla Rave, Hanna Hodge, Kasey Kopp, Hannah Shankey, and Lauren Harkner. Rounding out the anchor crew are Megan Engebretson and Isaiah Newell.
Leave a Comment