3D Printing Making Its Way into Schools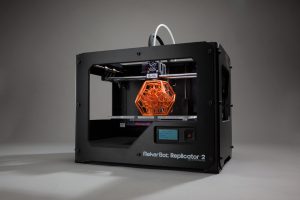 "3D printing is the future," said Tiger Investment Club Advisor Kris Wrobel. "3D printing is 21st technology that will open doors to advances in society we have can not even begin to understand."
3D printers are a recent invention and have really been gaining attention. These innovations in technology "print" like a normal printer, but instead of printing a layer of ink onto a sheet of paper, 3D printers can print three dimensional objects out of plastic. These printers can be used in school to print many things, like experimental parts, replicas of buildings, or supplies.
"A 3D printer actually uses a lot of the same technology as inkjet printers use right now," said Principal Tom Chambers. "There is a cartridge with the material that is sprayed out onto paper. With your inkjet printer, that material is ink and it is sprayed into patterns that make letters and words and with an inkjet printer that is just on the surface of the paper. With a 3d printer there is filament or some type of product that is in a cartridge or some type of container and it is sprayed out onto a platform and it builds up layer after layer after layer to create a three dimensional object rather than just a two dimensional one."
This technology does not come cheap. Home 3D printers can range anywhere from $500 to above $5,000. Makerbot, a printer manufacturer, works with Donorschoose.org to help schools get a discounted 3D printer through a project called Makerbot Academy.
"Teachers can go to Makerbot Academy and click on "register" and then they just follow the steps to make an appeal and then there is corporate funding that helps support those appeals," said Director of PR Jenifer Howard.
Even though Makerbot Academy started November 12, they have already seen many requests and many requests have been funded. Some requests were funded in a few days, others took a few weeks.
"534 printers were fully funded within the first six weeks," said Howard. "We at Makerbot have put in our own funding and we have partners that have put in funding, and there are other corporations that are supporters of Donors Choose that have also funded projects."
If 3D printers become part of our school district, that could mean improvements in the way classes are run. Some administrators feel that these printers can open up new doors for a school looking to expand its curriculum.
"For a school, the advantage I see of having a 3D printer is for students to get a glimpse of that future technology," said Chambers. "I would be interested in getting a 3D printer at our school just so students can be exposed to that and learn how it works, how to run a 3D printer, how to program one, and how to make things from a 3D CAD image."
Some teachers have already thought of ways they may be able to integrate a 3D printer into their class. Many classes will use 3D CAD programs in technical education classes, but they will not have a chance to actually see the project they made on the computer. With a 3D printer, they are actually able to see the object they made.
"I think that one reason to introduce 3D printers into our technology and engineering classes is so that students can complete the "design-build-analyze" process," said Technology and Engineering Instructor Brian Stemper. "Students spend a great deal of time designing objects/parts using a 3D CAD program and then print them out in 2D or on a flat piece of paper and then the process is done. [It's] incomplete from my point of view."
With a 3D printer, students are able to make a 3D object from the design they created or edited on the computer. This will allow the students to better understand what exactly they made on the computer.
"When a tangible 3D object is the end product, the student can actually analyze how the part is going to work or not work," said Stemper. "This is a more realistic real world process. If the product does not work as designed the student can then problem solve, redesign, and reproduce the product. I think that the problem solving/redesigning step is one that gets short changed at times because students don't have this tangible product."
View Comments (1)