Students move to positive Focus attendance system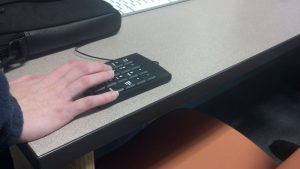 Not quite halfway through the year a new focus system has just surfaced. The new policy — dubbed positive attendance — mixes old features from past systems. It also takes advantage of our new technology to create a more efficient and versatile way to monitor students during focus.
Positive attendance involves students checking themselves in rather than teachers counting up heads and recording who isn't present. This is where the 'positive' in positive attendance comes from.
"It's similar to Moodle in that if a student needs to go to another teacher on a different scheduled day they can check in with their 'scheduled teacher' and get permission to leave and go to another classroom," said positive attendance pilot teacher Donna Wojciechowski.
This ability to track students makes one thing much easier for teachers, enforcing their requests.
"The other nice thing is we can look you up, so if you were supposed to come to me I can look it up on the computer and see where you are," said Wojciechowski  with a smile. "So, there's no escape, sorry. If you were supposed to make up a test or a quiz I'm going to find you."
Keeping up with students using the old focus system was a challenge for teachers. Students were recorded as being in their home focus for that day, but the fact that they could then sign out to any room they wanted meant tracking a student was a tough thing to do. This extra effort meant time and resources were wasted when a student was needed. Megan Finch, another pilot teacher, agrees with Wojciechowski that this isn't as big a problem with the new system.
"I don't have to call a teacher for focus just to find out they signed out to go somewhere else. It allows me to just know where a student is and get in contact with them instead of having to follow a paper trail of sign outs," said Finch .
The only negative she had to offer was that the system took some time from the end of her fourth hour since the scanner system needs to be set up ahead of time. Students like senior Joseph Barnett also seem to be responding to the system fairly well. With passes no longer required to go place to place, a lot of hassle and chaos has been removed when it comes to going from room to room.
"[There's] no rushing from one teacher to another teacher back to the other teacher to make sure you're on time," said Barnett.
Leave a Comment