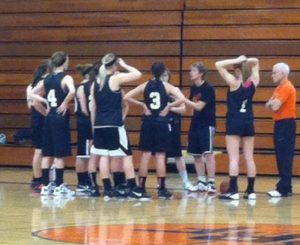 Changes to the girls basketball program, from the varsity level to the youth, are taking place under the watch of the new coach, Amy Olson.
"I am hoping that I am able to bring some discipline, some hard work, some character, and a lot of defense," said Olson.
Players have said that they are seeing some positive changes that Coach Olson has brought to the program.
"Coach Olson has brought a lot. Mostly more structure and a lot of new coaching methods that have really improved our team," said sophomore Ally Waughtal.
These new methods that Olson has brought to our program have been built by the years of experience she has had in basketball.
Coach Olson played Division 1 basketball at UW-Green Bay. After she finished up her career playing basketball, she started coaching at a high school level in her hometown of Tomah.
Coach Olson then had the opportunity to coach at the college level and became the Head
Assistant Coach at Viterbo University in La Crosse.
"The practices have been a lot more intense and really fun," said sophomore Lauren Helstad.
Players also said that they are already seeing improvements from last year.
"I think that we really talk more as a team," said Waughtal.
"We are working together more," said junior Jenny Malchow.
Helstad has high expectations for this year. "We are hoping for a 500 season, if not better. We are hoping to work together more than last year," said Helstad.
Not only has Coach Olson made an impact on the High School girls, she is making an impact on the the youth of our community.
"We did a skills clinic with all of the younger kids grades 2 to 8th. It was a student led occurrence to introduce them to the sport. We are trying to get the high school girls more involved in the community and to look out for the girls and help them out," said Coach Olson.
Having a son of her own, Olson has tried to involve the youth in the program. Senior Haylee Johnson worked with grades second to fifth and thought that this program will be very beneficial.
"All of us came in on Saturday and the little kids from grades 2 to 8 came in and we helped them and ran through drills, we showed them some of the drills we do in our practice. I think it was a good experience for them to be introduced to the game at a young age. It is good for the program," said Johnson.
Coach Olson has started sending out monthly informational newsletters called "The Tiger Preview"
"We are doing what we call the 'Future Paws', where they will get the opportunity to pick one of the varsity girls to shadow and they will get the chance to sit behind the bench and possibly go into the locker room," said Olson.
The Tiger Preview gives updates on the team and it also has information on the varsity players including advice, their hobbies, and what they love about basketball.
Not only will the varsity ladies be working with the Future Paws, but they will also be helping out with some select youth teams.
Senior Sonja Cook's advice to the Future Paws is if you love something, stick with it even if you're not the best at it. However players say that there's always room to improve.
"The past Saturday was the first assessment. And then we are going to try to go some of the Thursday night fifth grade practice and Mr. Janke is going to be running kindergarten up to 4th grade and we are going to try to help out with that," said Olson.
Not only does Malchow believe that Future Paws will benefit the basketball program, she also believes it is good for the youth to get some exposure to such strong leaders.
"We were role models for the kids, showed them the drills and I think that it is good for the younger kids to have some interaction with the high schoolers," stated Malchow.
Coach Olson is bringing a lot to the program in hopes of creating a strong varsity squad and even stronger "Future Paws".