NHS Looks Forward to a Rebuilding Year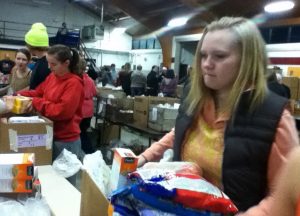 Changes are underway for an organization.  National Honor Society has had a switch in advisers after English teacher Bradley Lobenstein stepped down.
"He told me about [NHS] because he was thinking about resigning from the position, and he told me last year that he thought that I would be a good individual to take that over.  So, he and I talked about it, and I didn't give him a really for sure answer, and then the posting came up and I said I would do it for sure then," said English teacher Justice Broker.
As the new adviser makes adjustments to NHS, members will have to take part in volunteering. In the past few years, members were not involved with the community.
"Last year in NHS, we had a couple of meetings.  We talked about stuff that we wanted to do for this year. We didn't really accomplish much, besides the induction ceremony and bringing in the new members," said senior Sam Barnum.
Even though Broker did not know how NHS was handled in the previous years, she does know that students want change.
"I know that kids weren't satisfied.  They didn't think that NHS was doing what it should and a lot of students didn't seem to understand what NHS was for," said Broker.
Broker hopes that the recently elected officers will help organize the club.  The officers include: Tommy Torkelson as president, Sonja Cook as vice president, Sheena Voge as secretary, and Taylar Dalbec as treasurer.  With this new role of leadership, they will need to find ways so members and the community understands what NHS means.
"There is no reason to have a club that has no purpose, and I feel that this was exactly what the National Honor Society was.  I want to change that and give NHS the ability to better the lives of the students of BRFHS and have a clear definition of what the club actually is," said Dalbec.
Broker is trying to spread the word after hearing that many students do not know what NHS is.
"That, sadly, is unfortunate, and I think that it has to do with how it fell off to the wayside.  I think what happened is [Lobenstein] got busy.  We all get busy and it was kind of put on the back burner, and I want to do a better job with what we are," said Broker.
Members now need to volunteer for ten hours to stay in NHS.  They are given different events to sign up for such as Project Christmas and ringing bells for the Salvation Army.
"Well, I'm trying my best to give students as many opportunities as possible to volunteer and get themselves out there in the community," said Broker.
Many of the volunteer opportunities that the organization provides are similar to those being done by Student Senate. Both organizations went to the Kalahari Resort in Wisconsin Dells for a Wisconsin Association of Student Councils meeting.  This trip inspired Broker for wanting one element that would make NHS complete.
"I want us to be able to have some kind of t-shirt or some kind of shirt that symbolizes us all being together as a unit.  A lot of those different schools have shirts, and you could tell these people were from Tomah and these people were from here and there and we dressed up—I mean, we all looked good, cause we did—but I was like, 'Dang, I wish we had shirts that we could all wear together and be like, yeah, we're in NHS!'" said Broker.
According to Broker, this is the rebuilding year for NHS.
"I want to be able to do big things, but I just need patience from everybody, and I need help," said Broker.
Leave a Comment