Music Scholarships Announced at Spring Concert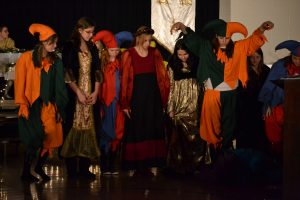 On Wednesday, May 22 the band and choir had a their annual spring concert. They played their instruments, sang their songs and some students were rewarded for their dedication to the music department.
"I'm proud of the students that won. They have shown dedication and hard work all of the four years they have been here," said band director Paula Hardie " I've seen them grow as leaders and they really deserved it."
Students that won scholarships included senior Camille Gunning.
"Band has always been one thing I could count on to put me in a better mood,"said Gunning ."Whether it has been marching, playing, or even just being around the people, I have loved every minute of it. As of right now, I plan on continuing with band at UW-Green Bay. I want to be apart of their pep band".
Gunning was awarded with the John Phillip Sousa Award. This award recognizes musicianship, dependability, loyalty, and cooperation.
"I am feel very honored to say i won that [John Philip Sousa Award]. I really feel as though my peers, instructor and the community have seen the hard work and dedication that i have put into band over the last four years."
Another winner included senior Cory Weldon. Weldon was awarded with the Fey-White Piano Award.
"I am very honored to receive this award. Im really going to miss the high school band,"said Weldon. "I plan on using my scholarship. And continuing with my band stuff."
"These students have learned some important skills and whatever they plan to do in their future whether it be music related or not, I know it will help them in their future," said Hardie.
Other students that received awards and letters are as follows.
First Year Letter: Grayson Hereid, Evan Markhardt, Zane Dukes, Brandon Drangstveit, Jayden Gjerseth, Sabrina Gunning, Taylor Inches, Katie Jones, Mackenzie Quackenbush, Mary Onstad, Brad Bluedorn, Matt Brondson, Chayla Dobson,  Keoinia Dobson, Mariah Gaier, Natalie Gawron, Jared Johnson, Zach McJoynt, Brittany Redeagle, Courtney Rees, Jacob Victor
Second Year Letter: Aspen Bue, Katelyn Breheim, Cody Wiesner, Heather Youngthunder, Kaelyn Lang, Gary Ramos, Chaz Churchill, John Holty
Third Year Letters: Brian Drangstveit, Joey Barnett, Paige Fisher, Christian Schmitt, Kjell Bakken, Kate Hegna, Dominic Vase
Fourth Year Letters: Rikka Bakken, Camille Gunning, Justice Thompson, Cory Weldon
There was awards for student director were given to seniors Rikka Bakken, Justice Thompson and Camille Gunning. The Color Guard captains were Sonja Cook and Sarah Sigler.
The Instrumentalist Award goes to band students that have had four years of band and solo ensemble, strive for excellence, have been a student director or section leader, have performed several performing ensembles, has a secondary instrument and enjoys playing difficult music. The Instrumentalist Award went to Rikka Bakken, Brian Drangstveit, Camille Gunning, Justice Thompson and Cory Weldon.
Leave a Comment