Time for a SNAC
They call themselves SNAC, Student Nutrition Advisory Council. Basically, they eat food and give their input on it. Sounds like a fun club, right?
"Basically on SNAC, we help the cooks to decide what foods they should serve us based on what we like and don't like and give our input on the new foods," said junior Sierra Flick.
The SNAC group has already gotten busy with the new food menu. The changes and additions will be taking place soon.
"Some examples will include, meatballs on May 8th, a multi grain sub bun on May 9th, a beef patty on May 14th, a new Italian cheese on May 15th and banana bread on May 20th. These are just a couple item changes that may or may not go through for next year," said Nutrition Services Supervisor Connie Sieber.
SNAC consists of Kinzi Macintyre, Samantha Guillaume, Sierra Flick, Zachary Bailey, Collin Oakes, Taylor Hamilton and Dylan Rochester. The SNAC group may be small, but they are learning a lot.
"So far, I have learned that there are a lot of foods out there that we really haven't tried and we should get a bigger variety," said junior Zachary Bailey.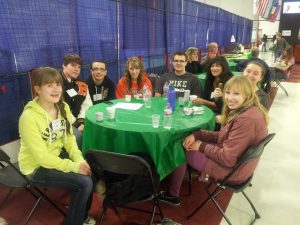 The club recently went on a field trip on April 9 to Eau Claire where Indianhead Foodservice hosted an event at the Eau Claire Sports Arena. SNAC went on a trip to Eau Claire to taste test some new foods.
"On the trip, brokers and manufacturers come together to highlight new products that they have developed and to provide information about current product lines they carry. One of the most important reasons to attend the show is to network with the brokers and participants," said Sieber.
A day of eating, recipe exchanges and demonstrations were the expectations of the day.
"We have went on two trips so far, and we taste-tested food for next year for lunches, and that was fun because, obviously, eating food is fun, but you get really full eating so much," said Flick.
Because of the field trip, there will be new items added to the menu for next year and more changes to be made in the future.
"Based on the taste testing experience we had with the SNAC group earlier this year, there will be changes happening in the future. They were able to taste over 206 products back to back in a blind taste study and provide us with honest feedback. The experience was eye opening and beneficial," said Sieber.
The SNAC group has had a fun year and they have been very helpful providing information to the cooks.
"SNAC is fun and it's nice to give our input on the food without worrying about offending anyone," said Flick.
If anyone is interested in joining the SNAC group, talk to one of the members of the group or contact Connie Sieber.
"Developing this team and working together to create a better nutrition program has been the best experience, and I look forward to many more years to come with the hopes of increased interest in joining our group," said Sieber.
Leave a Comment