Why take an AP test?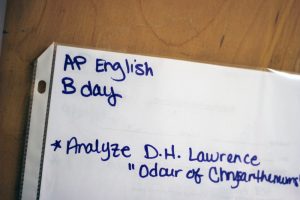 AP tests may be challenging, but they may also pay off when you get to college. Taking the AP test in high school could save you around $2,900 if you get a high score on the test.
"The benefits of taking the AP test are numerous; however, I think the most important is that these tests have the potential to save you major money when it comes to post-secondary education," said AP English teacher Justice Broker.
The college credit and money-saving opportunity is not the only benefit, though.
"By taking the test and getting a high score you not only gain a college credit, but the test is also a very good representation of what a college test is going to be like," said AP psych teacher Tony Boerger.
A college credit today is around $1,000 and most classes are three credit courses. That comes to a grand total of $3,000. That is a lot of money compared to the $89 for the AP tests.
"I took the AP test because I figured that, since I completed the class, I might as well try and get college credit for it," said senior Camille Gunning.
"I am only taking one AP test this year and that is AP Psych. I plan on taking the AP English next year. But I'm taking it in hopes of getting some credits and to save money. And to get the feel of a college exam so I can feel more prepared when I start college," said junior Samantha Barnum.
Even if a student does not take an AP class, it is still possible for them to take the test to earn some college credit. The class is not required for the AP test. So is it worth spending the $89 on the test?
"Any AP test will be challenging, but it is worth the experience.  I truly believe that this test will prepare you and give you a taste of post-secondary courses and testing experiences," said Broker.
"I do think it is worth the money. I would recommend taking the test. It could save college-bound students a lot of money," said Gunning.
There is also a lot of time and effort that goes into preparing for the test itself.
"I like the fact that we are doing reviews on Thursday mornings and Sunday evenings for the AP Psych test. But I know I'm going to have to study a lot on my own. It'll be a lot of work but I think that if I put in the work, I'll get the results I want," said Barnum.
The AP tests that are offered at Black River Falls High School are AP Psych taught by Tony Boerger, AP English test taught by Justice Broker, AP Biology taught by James Klos, AP calculus taught by Tim Young and AP US History taught by Paul Rykken.
If anyone is not enrolled in an AP class but desires to take an AP test, talk to any one of the AP class teachers.
"I will be honest and say that it is nerve-wracking, as any test can be, but with preparation and determination, one can dominate the test and achieve their best," said Broker.
Leave a Comment