Changing Focus so Students Can Focus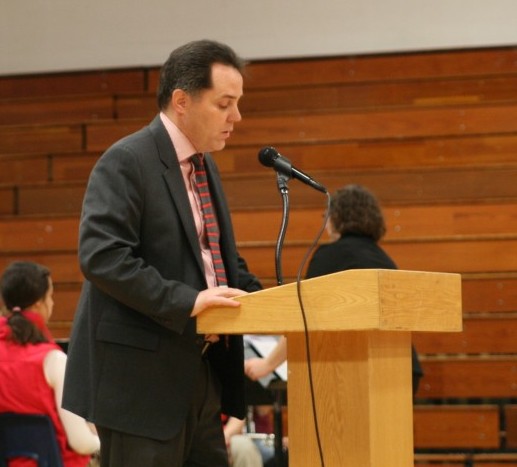 Administrators in the BRF School District are looking to improve student performance by moving high school focus time to the beginning of the day starting next school year.
"The first [concern] is the concentration level. As you put in a full day at school, a lot of times kids aren't as energetic and ready to buckle down and really do a lot of studying. The other thing is that it [having focus at the end of the day] kind of offers a natural wind-down to the day, and there seems to be a lot of that mentality about it," said Principal Thomas Chambers.
In other words, the concern is that students lose focus by the end of the day.
"Brain research on adolescents shows very clearly that adolescents tend to have sleeping patterns where they go to bed later, get up later, get going later. Their metabolism is such that it doesn't get going in the morning as early as it does for adults," said Chambers. "So by having that period of time… at the beginning, students have a chance to get focused to get prepared for the day."
By moving the Focus time to the beginning of the day, Chambers hopes that it will allow students time to both wake up and prepare for the day. However, how well students are able to use their time in the morning begins with how well they prepare in the evening.
"[One concern is] whether or not that will actually motivate kids to do their homework in the evening and be prepared when they come in, or if they will get used to knowing how much they can put off until that morning focus and get done before classes," said Chambers.
One of Chamber's hopes is that students will use focus as a time to get questions answered, rather than entire assignments. One thing students may have questions about is the technique of "flipping the classroom." If BRFHS is able to give every student with a laptop or electronic device, they will be able to use those devices in new academic techniques.
"Part of our hope next year is to also move to a One-to-One situation to where… every student is issued a computer, and a teaching method with that is called 'flipping the classroom'," said Chambers.
"Flipping the Classroom" is a method in which a teacher will record themselves giving a lesson the day before. The students then watch the lesson in the evening in preparation for class the next day.
"The teacher actually gives the lesson the day before, and the students watch the lesson either on video or online, and do something with the lesson themselves in the evening," said Chambers. "Then they come to school the next day, and the teacher walks them through the homework process in the classroom."
For this to work, students will have to do their work in the evening, The benefit  of being ready and performing well is that students on privilege will not have to attend focus.
As exciting as the prospect of having an extra 30 minutes to sleep in is, some students may not be able to benefit from it. Students involved in sports that take part in weightlifting in the morning may not have the time to travel home after these events. Music students involved in extra-curricular ensembles that practice at 7 a.m. will have the same issue.
"We do have some before school rehearsals already for handbells and jazz band," said band director Paula Hardie, " but I know, especially for brass instruments, that it can be challenging to have to play high notes in the morning. I know once people have been in school for the day, and they've had a chance to warm-up sometimes playing is a little easier sometimes, in the afternoon than in the morning."
Hardie, along with four other teachers, has another concern to consider if the high school schedule changed. Five teachers employed by the BRF School District work at both the high school and middle school.
"Making the schedule mesh with middle school schedule is really important because of the teachers that we share," said Chambers.
Teachers that work at both the high school and middle school include Hardie, choir director Gillian Pacetti, agriculture teacher Brad Markhardt, Spanish teacher Marc Rukavina and business teacher Mary Byrns. To make these teachers schedules' work, the middle school would also have to be adjusted.
"If the high school were to go to a 1st hour Focus, the middle school, too, would go to a 1st hour Focus.  Because we share so many teachers, it is imperative that our schedules match as closely as possible, even though we do not have the block over here. This would affect all teachers and we know that there are pros and cons to both sides of this issue," said Middle School Principal David Rouu.
According to Chambers, this change will most likely be in place for next year. However, the details are still being worked out. Both Chambers and Rouu have expressed interest in the opinions of students and teachers on the topic. Students and teachers can e-mail Chambers and Rouu by typing in their names into a gmail account.
"Send me an email, tell me what you think," said Chambers.
Leave a Comment